FBI wants 3D printer to study homemade bombs of the future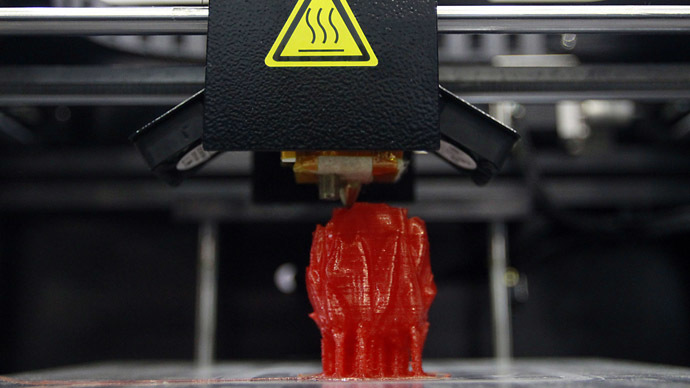 The Federal Bureau of Investigation is getting a 3D printer, but it's not because FBI agents want to custom make tiny plastic knick-knacks. According to a recent request from the agency, their newest toy will be used to test high-tech explosives.
A solicitation that surfaced on the Federal Business Opportunities website last week reveals that the FBI wants to acquire a top-of-the-line 3D printer from a Minnesota-based tech company. Once in the hands of FBI agents, the machine would help law enforcement learn all there is to know about cutting edge explosives being crafted by bombmakers equipped with tools that seemed like something out of science-fiction only a few years ago.
Anyone with a 3D printer, blueprints and the proper materials can now create seemingly anything of their choosing without ever giving up the privacy of their own home. Indeed, this ability prompted federal regulators to intervene quickly after some American technologists began in recent years to advertise plans that allow 3D printers to pump out plastic handguns capable of firing totally lethal bullets.
Now the FBI appears concerned about how these printers could be used to make more than just firearms, and say acquiring one would "support the advanced technical exploitation of evolving and existing high technology explosive devices."
In other words, the FBI appears to want a 3D printer of its own to stay one step ahead of the explosives experts who are using similar machines to make their own creations.
To accomplish as much, the FBI has set its sights on one printer in particular that the bureau believes to be a cut above the rest.
"The Objet24 Desktop Personal 3D printer is the only instrument capable of producing the high accuracy and resolution results to meet Agency testing standards," the FBI writes in the FBO.gov solicitation. "The printer also is the only one capable of meeting FBI support data recovery and thermal environment requirements. The Objet24 model is the only 3D printer that satisfies all the technical requirements of the FBI."
And in terms of requirements, the FBI has a lot of them. The bureau expects Object24 to produce one printer, as well as installation, training and other support. According to price sheets discovered by the website NextGov, the FBI can expect to spend at least $20,000, unless Object24 feels like cutting the feds a hefty discount.