Father's day weekend in Chicago: 2 dead, dozens shot
Published time: 16 Jun, 2014 16:07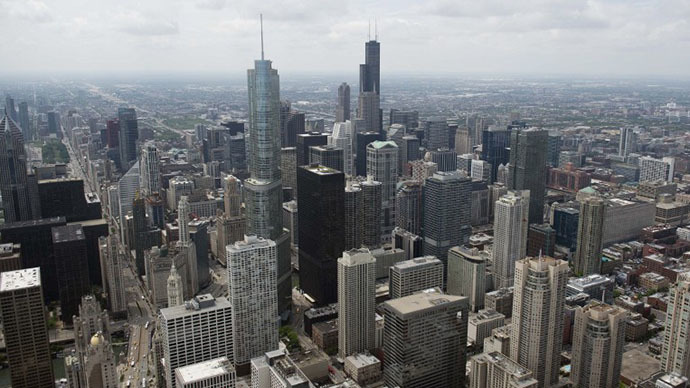 The arrival of Father's Day did not bring about a halt in deadly and violent activity in Chicago, where at least two people were killed and more than two dozen were injured over the weekend.
According to NBC Chicago, at least 25 people suffered gunshot wounds from incidents that included suspected gang-related activity. One shooting occurred as a result of an argument getting out of hand, while others involved drive-by shootings. As of Monday morning, the details of some violent encounters – including one in which a 20-year-old woman was shot in the knee – were still shrouded in mystery.
The first fatal shooting took place on Friday evening, when 27-year-old Dewey Knox was killed when a dark-colored sedan drove by and opened fire, hitting the man in his back. Knox was taken to Mount Sinai hospital but pronounced dead there.
The next deadly episode occurred early Sunday morning and took the life of a 17-year-old teenager named Brandon Peterson. According to DNA Info Chicago, the young man was reportedly walking with a group of people when someone shot him in the head and leg. Peterson was also declared dead upon arrival at a hospital.
Numerous shootings took place in between, though none were fatal. While most of the individuals involved in these incidents were in their 20s or 30s – one man was shot while playing basketball – two of them ended up injuring teenagers. Just before noon on Friday, a 15-year-old boy was shot in the chest during a drive-by and placed in serious condition at a hospital.
Meanwhile, another teenager, 16, was shot Saturday night while standing outside on a corner. According to NBC Chicago, police said the boy was struck in the foot and noted he is a "documented gang member."
Various incidents unfolded similarly, with someone walking home or standing on a block before being hit with bullets in their buttocks or back.
Even before the weekend started, the city was rocked by almost 10 shootings in one day. According to ABC 7 Chicago, there were nine shootings on Thursday, June 12. One of them resulted in a fatality.
The steady stream of weekend shootings has become routine in Chicago. Last week, at least 30 people were injured and four people were killed.
Despite being home to significantly fewer people than New York City or Los Angeles, Chicago owns a larger gun-related murder rate than both. As RT reported in April, when one weekend saw 35 people shot alongside four deaths, roughly 2,100 people were involved in shootings during 2013.
Notably, 2013 also saw the lowest total number of murders in Chicago (415 recorded deaths) since 1965. Although violent weekends continue to plague the city, Police Superintendent Garry McCarthy told CNN in April that, so far, 2014's homicide rate is still lower than it was at the same point last year.