KKK plans to employ US troops in training for upcoming race war (VIDEO)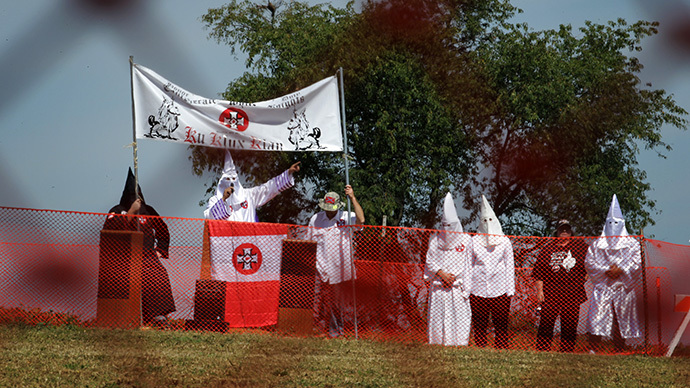 The Ku Klux Klan plans to use US military troops returning from overseas deployments to begin military training for its members, according to a new report, though the success of the group's recruitment drive is unclear.
The Loyal White Knights within the larger, nationwide white supremacist group – which has an estimated 6,500 members – told Barcroft Media they have stepped up efforts to train and recruit new members, specifically children, in preparation for a race war.
"We're going to do something a little different for probably the next couple of years to try to get our men and women ready for the upcoming battle that we're about to take upon us, and this is something that no Klan has ever done and we're going to start it," said one Klan leader at meeting of about 40 people in Parkersburg, West Virginia. "All our boys are finally coming back home from the military, which is good, and we're getting a lot more military members to join."
The leaders featured in the Barcroft report claimed members of the military would help KKK members in armed combat, hand-to-hand combat, and survival skills. Klan members at the West Virginia gathering said other top professions are represented in the group's ranks.
"We got police officers in the Klan, we got lawyers, we got doctors – your next-door neighbor could be in the Klan, and you'd never know it," said James Moore, a supposed grand dragon in Virginia.
KKK expert Brian Levin said the biggest threat from the group lies in individual members striking out alone to make a name for themselves, not necessarily armies associated with the Klan or other hate organizations.
"This is something we've seen throughout recent decades, where the Klan has gone through cycles, where they've armed themselves, gotten in trouble, then mellowed out and then armed themselves again," Levin said.
The Klan, Levin said, needs young recruits to maintain social and technological relevance to their movement.
KKK affiliates across the US, including the Loyal White Knights, have dropped flyers in neighborhoods in recent years to complement use of social media in attracting young members.
"The ultimate goal for myself is to have our membership get to the point where we can affect change through the political system," one Klan official told Barcroft. "Right now, our numbers aren't quite good enough."
Other young recruits are encouraged by their parents, as was the case at the Parkersburg rally.
"I enjoy days like today, because I like being around people, not disgusting people, not drug addicts," said one boy, dressed in full KKK hood and garb, whose parents brought him and his brother to the rally.
The boy's mother told Barcroft she wants influences like the KKK in her sons' lives, as she believes black and Hispanic students are selling their parents' drugs at her sons' school.
"Their parents are so worried about doing drugs than providing for their own children, that's what I think," said the woman, also dressed in full Klan gear.
Loyal White Knights members said their message resonates at a time of desperation and the alleged imminent collapse of the US government.
"Black people, white people, we're all getting tired of the government, and pretty soon you can see the government collapse," Moore said. "And when the government keeps on sending their money over to Israel, and it finally collapses, you can see the Klan take it back and make this nation the way it needs to be."
You can share this story on social media: