Immigrants subjected to 'pointlessly cruel' treatment in private prisons – ACLU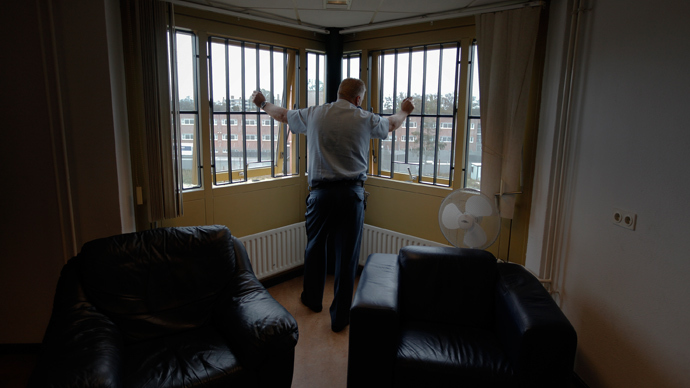 Thousands of immigrants have been subjected to regular abuse and otherwise harsh, dangerous conditions in privately operated Texas federal prisons, according to a report published Tuesday by the American Civil Liberties Union.
The new report is the culmination of a five-year investigation conducted by the civil liberties protection group that found, among other issues, widespread overcrowding, lacking medical facilities, filthy conditions, and a near-dependency on isolation cells.
ACLU investigators examined Criminal Alien Requirement (CAR) prisons in Texas, where convicted immigrants living in the US illegally are detained before they are scheduled to be deported.
According to the Texas Tribune, the US federal Bureau of Prisons contracted three corporations to oversee 13 criminal alien prisons throughout the US, totaling approximately 25,000 inmates. Over half of that population are held in Big Spring, Post, Eden, Pecos, and Raymondville, all of which are located in Texas.
The ACLU reported that because the private corporations have more of a responsibility to the bottom line than to corrections, inmates are trapped in a system where their care is based on how much money their needs will cost.
"Medical understaffing and extreme cost-cutting measures reportedly limit prisoners' access to both emergency and routine medical care," the report explained. "Martin, a 36-year-old Cuban immigrant, told us he woke up in the middle of a severe asthma attack one night and did not have access to his inhaler. There was no doctor on staff that night, so he waited nearly an hour to see a nurse who did not know how to properly intubate him."
Such health issues seem to be a near daily occurrence, with much more dire circumstances detailed throughout the report. In one instance, an inmate described watching his cellmate become ill and clearly turn worse as he spent hours trying to convince a guard to find medical help. The sick inmate was unconscious by the time help arrived and died shortly after.
Isolation has also become a preferred method of incarceration. While the Bureau of Prisons (BOP) must abide by policies that dictate when inmates are housed in solitary housing units (SHUs), private prisons are not required to adhere to the same rules.
"At Eden, nearly everyone we interviewed in January 2014 reported that they were immediately locked in an isolation cell when they arrived, with some waiting for days and others waiting as long as two weeks before being assigned a bed in the general population dorms," the report said. "In addition to being pointlessly cruel, such extended periods of isolation upon intake appear inconsistent with BOP intake policies."
Overcrowding is also an ongoing issue, with each of the five Texas facilities operating at near their 115 percent capacity – the fullest a prison can be while still receiving per-inmate compensation from the government.
Also of concern is that, unlike American citizens housed in government prisons, the immigrants kept in CAR prisons are not entitled to education or other rehabilitative programs, leading the ACLU to speculate that the BOP has no interest in helping inmates who will be deported anyway.
"We're talking about segregating a group of people on the basis of their immigration status in a facility that is by all measures second class to the hard-core BOP prisons that we see felons incarcerated in," Rebecca Robertson, legal and policy director at the Texas ACLU, told the Tribune, adding that the situation leads to "enforced idleness."
A BOP spokesman denied that overcrowding is an issue in the privately-owned facilities, with a representative from the GEO Group (which runs two of the prisons in question) telling journalist Gilad Edelman that "GEO's facilities provide high quality services in a safe, secure, and humane environments, and our company strongly refutes allegations to the contrary."
You can share this story on social media: