Flight MH370 families start fund to uncover truth about vanished jet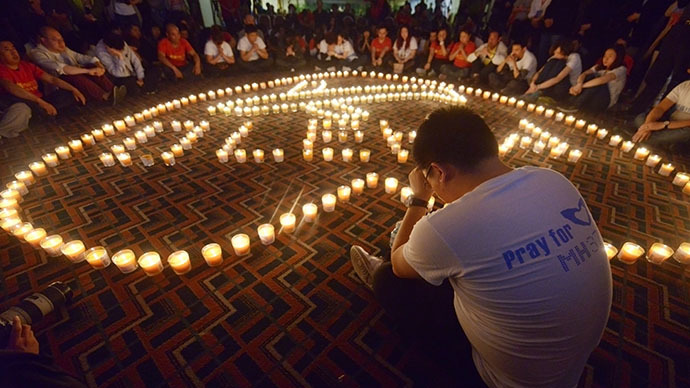 Not satisfied with the lack of progress being made on locating Malaysia Airlines Flight 370, relatives of passengers are planning to launch a $5 million fundraising campaign aimed at triggering another investigation.
According to a report by USA Today, the campaign will seek $3 million to reward a whistleblower for coming forward with new information and $2 million for private investigators to look into any other leads that emerge.
The campaign has been dubbed "Reward MH370: The Search for the Truth," and will officially launch on Monday through the crowd-funding website Indiegogo. Composed of families from the United States, Australia, France, India, and New Zealand, the campaign does not include the participation of Chinese or Malaysian families, whose relatives were the primary travelers on the plane.
As for why these families decided they needed to start such an effort, American Sarah Bajc – whose partner, Philip Wood, was on the plane when it disappeared – said it's necessary considering the failure to locate the plan up to this point.
"We are taking matters into our own hands," Bajc told USA Today. "There is no credible evidence" the plane is somewhere in the southern Indian Ocean. "I'm convinced that somebody is concealing something."
Although Bajc is certainly not alone in feeling that way, these accusations have been denied by officials conducting the search.
"Nothing important is being concealed in any way," said Angus Houston, the head of Australia's joint agency managing the search. "My approach has always been to be as open as I could possibly be."
Houston acknowledged that not all the information is out in public just yet, but that a complete review is underway and should be finished sometime in June.
Meanwhile, Malaysian officials have also denied that transparency is an issue, though the country's acting transport minister, Hishammuddin Hussein has stated that "requests made by next-of-kin and international media cannot be accommodated 100%."
While Bajc is hopeful and believes outside action must be taken, she is also cautioning those who donate. Even if the campaign is fully funded, results are not guaranteed.
"Granted, $2 million in investigation services won't go very far," Bajc told USA Today. "Clearly, they've already spent $100 million, and they've gotten nothing. But we're not going to approach it with boats in the ocean. We're going to approach it with human intelligence."
As far as the official search goes, the US Navy's deputy director of ocean engineering Micheal Dean said at the end of May that the four pings believed to have been coming from MH370's black box were actually coming from an unrelated source. As RT reported then, Dean said there was no evidence suggesting the pings came from the black boxes, and the international group charged with finding the plane halted its search for debris in the suspected area of the Indian Ocean.
You can share this story on social media: