Pregnancy tests forced on all inmates of California jail, says ACLU
Published time: 6 Jun, 2014 03:50
Edited time: 6 Jun, 2014 04:30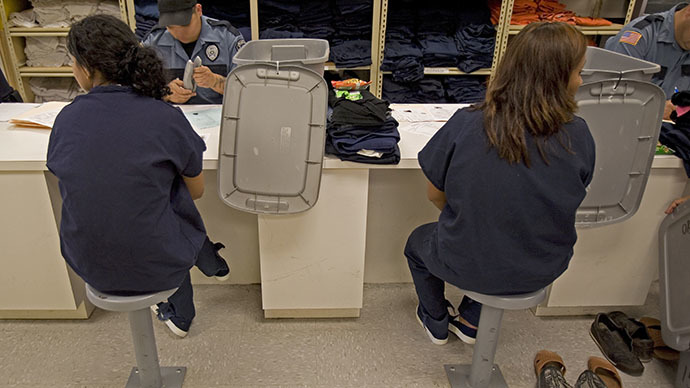 A California sheriff's department wrongfully forces all females arrestees under the age of 60, whether they are convicted of a crime or not, to take a mandatory pregnancy test when they are in custody, according to a new lawsuit.
The American Civil Liberties Union (ACLU) announced on Monday that it has filed suit against the Alameda County Sheriff's Department – which patrols a highly populated area including Oakland and Berkeley – on behalf of a woman who was arrested and had no choice but to take a pregnancy test. Nancy Macias, an activist coordinator who works with the Code Pink: Women for Peace movement, was taken into custody during a peaceful demonstration in 2012 and transferred to the county jail.
"Being forced to submit a pregnancy test against my will was not about my health," Mancias said in a statement, as quoted by journalist Matthew Keys. "It was invasive, offensive, and humiliating."
The ACLU suit includes a number of current and former inmates at the Alameda County jail, including an unidentified woman who alleged she was forced to endure a pregnancy test of her own after being arrested for obstructing a police officer who was in the midst of a traffic stop earlier this year.
Susan Harman, 72, was arrested in July 2010 while protesting the verdict in the Oscar Grant trial. Then 69 years old, Harman told KTVU she had been arrested before but never forced to take a pregnancy test. If a woman is arrested across the bay in San Francisco she is allowed to turn down the option.
"I don't think I've ever taken a pregnancy test!" she said. "To know whether or not you're pregnant is very intimate and personal, and something that a woman would want to discuss with her loved ones and her doctor, not with some random matron in a jail."
Harman said jail officers ignored her need for a daily insulin injection for diabetes while insisting that she take the pregnancy test. Both Harman and Mancias said they never learned the result of their test. Mancias said in the suit she was never charged with a crime from her arrest.
"It does not appear to be related to providing appropriate health care to women in the jails: it applies to women who will stay at the jail for only a few hours, and it applies to women who cannot be pregnant," the civil liberties protection group wrote in the suit. "Women are not permitted to refuse the testing."
Alameda County Sheriff Gregory Ahern admitted that "every female brought into our jail is required to submit a pregnancy test through urinalysis," according to a letter he wrote that was obtained by the ACLU and included in the suit.
"Our accredited medical personnel conduct the pregnancy test so that we can provide the essential medical necessities needed by pregnant women in our care and custody," the sheriff said. "This information also allows staff to expedite the booking process for these individuals or transfer them to Santa Rita Jail where we house female inmates and have an OBGYN clinic."
A spokeswoman for the ACLU said she believes Alameda is the only county in California that makes pregnancy testing mandatory. The suit does not seek compensatory damages, only an end to the practice.