Florida cop frames activist for public masturbation to avoid being filmed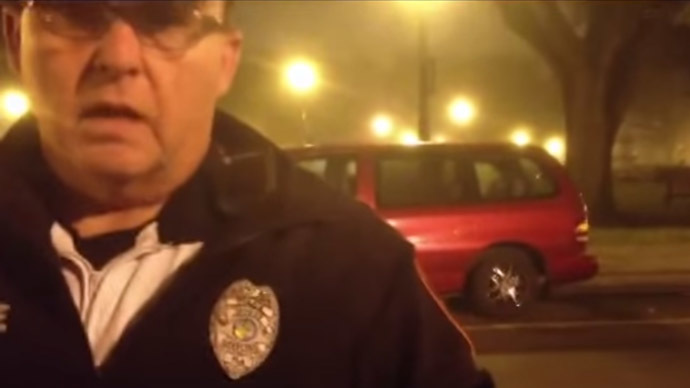 As part an effort to avoid having his activities captured on film, a Lakeland, Florida, police officer allegedly reported a citizen for masturbating in public.
According to the weblog Photography is Not a Crime – established by photojournalist Carlos Miller to help educate the public about the First Amendment as well as photographer rights – a resident named Michael Burns was recording the actions of Lakeland officer Javier Perez back in January when the incident occurred.
Burns operates a website called Cop Block Central Florida and routinely films police activity in the area. This time though he ended up in an awkward situation when a separate officer arrived at the scene. In a video posted on YouTube, the responding officer can be seen telling Burns that a call was made indicating that he was "maybe doing something" that he "should have been doing in private."
Though the responding officer did not voice objections to Burns' right to record law enforcement officials, Burns filed two public record requests with police that reportedly allowed him to trace the phone number back to Perez. On the phone, a man who does not identify himself as a police officer calls the department's non-emergency line and reports a "suspicious person" he believes to be masturbating inside a car.
"I did a Spokeo search and it came back to a Javier Perez," Burns told PINAC in an interview. "I then Googled the name and discovered a Javier Perez had been hired by the Lakeland Police Department."
Redactions by the Lakeland Police Department regarding the officer's name have prevented Burns from making a direct link to Perez, but a sergeant has confirmed that police are looking into claims that Perez has made false 911 calls.
Additionally, PINAC raises concern over the possibility that, since Perez called in to a non-emergency line and not 911, police will ultimately clear him of wrongdoing. According to Florida law, however, that detail should not enter into the equation:
"817.49 False reports of commission of crimes; penalty.—Whoever willfully imparts, conveys or causes to be imparted or conveyed to any law enforcement officer false information or reports concerning the alleged commission of any crime under the laws of this state, knowing such information or report to be false, in that no such crime had actually been committed, shall upon conviction thereof be guilty of a misdemeanor of the first degree, punishable as provided in s. 775.082 or s. 775.083."
Burns is supposed to meet with the sergeant on Wednesday to discuss the incident.
The issue of recording law enforcement has made headlines around the country, most recently when a federal appeals court ruled that Americans have the right to do so under the First Amendment. As RT has reported in the past, one case in Florida involved a man who was detained simply for filming the arrest of a separate individual. Police in Dallas, Texas, meanwhile, have asked citizens to stop filming due to "major safety issues" that could occur when officers don't know who is following them or why.
You can share this story on social media: