Most Americans applaud Snowden's exposure of NSA mass surveillance – poll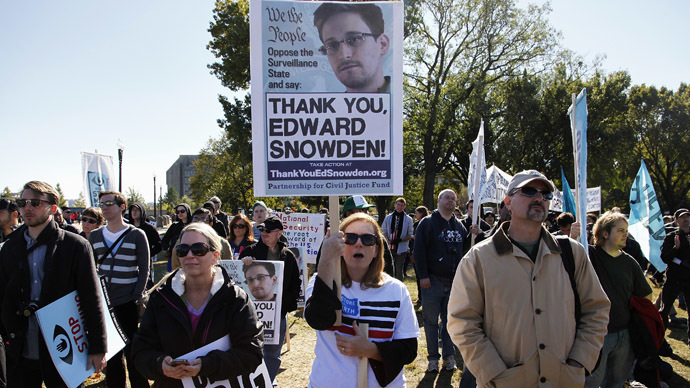 Almost one year after Edward Snowden unveiled the NSA's bulk data collection, more than half of employed Americans believe he was right to do so, according to a recent poll. More than 80 percent still fear their digital privacy is being undermined.
NSA blowback: Top 8 political scandals sparked by Snowden leaks

A total of 1,007 Americans in employment were questioned for the survey, and 55 percent of them said they approved of Snowden's leaking classified NSA files. Forty-four percent said the move was right because mass surveillance violated their constitutional rights.

The poll has been published by encrypted cloud storage provider Tresorit, who commissioned third-party firm YouGov to do the research.

"No doubt, Snowden brought the issue of privacy to the fore of public awareness, especially as many then argued that 2014 would be the year we awaken to the need for security and privacy online," Tresorit CEO Istvan Lam said.

Eighty-two percent of respondents said they believed their personal information is still being held by the US government, while 81 percent said their privacy was undermined by corporations for business purposes.

"In a post-Snowden world, it's clear that consumer confidence regarding their private, online documents is extremely low," Lam said.

Tresorit's poll findings have, however, been challenged by another poll for NBC, following their broadcast of an exclusive interview with Edward Snowden.

Read Snowden's comments on 9/11 that NBC didn't broadcast.

Only 24 percent of NBC survey participants believed Snowden did the right thing by exposing confidential data on NSA's mass surveillance, while 34 percent of respondents disapproved of his actions.

Forty percent were not sure of their attitude to Snowden's leaks, while one-quarter of respondents confessed to not even knowing who Edward Snowden was.

However, a plurality of younger respondents (aged between 18 and 34) approved of Snowden's actions, with 32 percent of them in favor of them and 20 percent against.
You can share this story on social media: