'Reset the Net!' Reddit, Greenpeace, Amnesty unite in anti-NSA hit campaign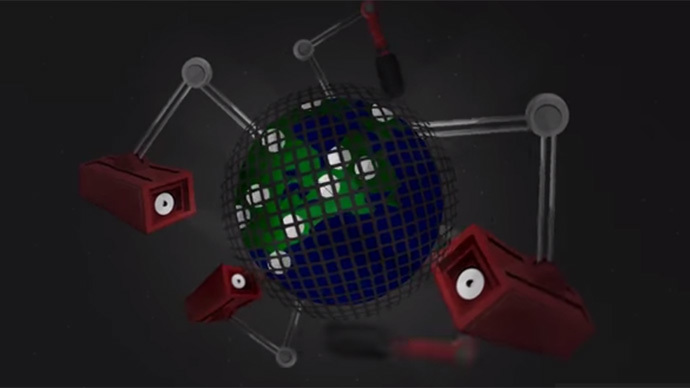 Opponents of mass government surveillance are braced for the June-5 campaign for a free and secure internet, led by some of the world's largest websites. A massive electronic 'Thunderclap' is planned for the first anniversary of Snowden's revelations.
Some 200 websites have joined the #ResetTheNet campaign, urging internet users, developers and content providers to use "NSA-resistant" software, and tools to protect the global net against intrusive government surveillance.
The sites, which vary from individual pages to internet giants like Reddit, Imgur and Boing Boing, various rights groups, including Amnesty International and Greenpeace will place an internet "splash screen" on Thursday in support of the campaign.
The screen will give tips on ensuring web privacy, and simply by submitting an email on the campaign's website, users can download a "privacy pack of free software tools that make end-to-end encryption easy."
At the same time, Fight for the Future, which launched the project, is calling for supporters to reach out to millions of people on social media in a giant June-5 'Thunderclap'.
"Don't ask for your privacy. Take it back. Today we #ResetTheNet to stop mass spying. Encrypt everything! Learn how:http://thndr.it/1euOUIl " will be the message posted simultaneously by thousands of social media users in a web-delivered 'Thunderclap' that will bag an estimated social reach of about 3.7 million people, and counting.
Wondering what the heck #ResetTheNet even is? Read the FAQ: http://t.co/79nwoYGTk2 | pic.twitter.com/0zgJppBT7t

— Fight for the Future (@fightfortheftr) May 29, 2014
According to the project's page, the choice of the June-5 date was deliberate. It will be a year to the day when the first revelations of the US National Security Agency's (NSA) warrantless and huge-scale web surveillance were published by the Guardian.
Countdown to #ResetTheNet this week! We'll need your help each day this week. TODAY: join this Thunderclap & retweet https://t.co/jiwitRnHrC

— Fight for the Future (@fightfortheftr) June 2, 2014
It soon turned out that the report was based on leaked classified data obtained from CIA employee and NSA contractor Edward Snowden, who left for Hong Kong to escape persecution. The whistleblower was eventually trapped in a Moscow airport, in transit to South America, after the US revoked his passport. RT extensively covered the dramatic story that unfolded and culminated in Snowden receiving temporary asylum in Russia.
The 'Reset the Net' project comes slap-bang in the middle of the ongoing campaign for net neutrality under the hashtag #SaveTheInternet. For those still unfamiliar with the issue, the latest episode of Juice Rap News ingeniously sums it all up.
.
You can share this story on social media: