​Pot-infused coffee makes debut in Washington state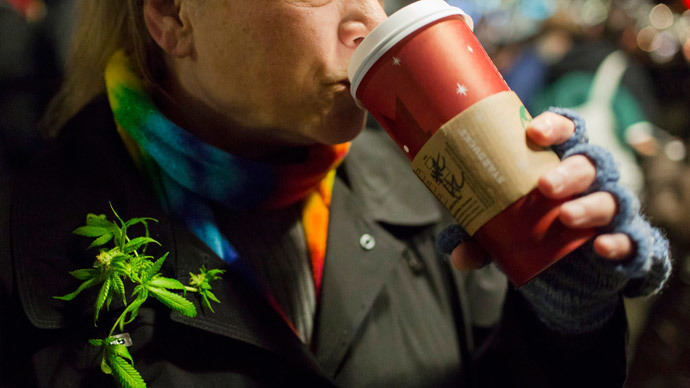 Marijuana customers in Washington state will soon be able the purchase marijuana-infused coffee called "Legal" that promises to give customers a caffeinated high if all goes to plan and Legal hits stores next month.
The cold coffee will be sold in glass jars that each contains approximately 20 milligrams of THC, the component of marijuana that gets users high. The effect of that amount, product developer Adam Stites told the MyNorthwest.com, is comparable to "a nice IPA or glass of wine."
"The coffee drinks give you an uplifting head high. We call it the wake and bake drink," he said. "We want the experience to be more similar to that if you had a nice IPA or glass of wine. We don't want to pack so much THC into every one of our drinks that it's unpleasant, especially for people that are just getting into marijuana."
Cannabis users have long been able to infuse the drug into various legal food and drinks, perhaps most notably brownies and lollipops. A cursory search of marijuana forums proves that users have been trading recipes for coffee or hot chocolate with cannabis for years, with posters admitting various levels of success.
The "Legal" drink is an obvious step for businesses in Washington, where voters approved a ballot initiative to make marijuana legal for recreational use for all citizens over 21 years old in 2012. The creators did not mention whether Legal will be available in Colorado, the only other US state where marijuana is legal.
"Drinking this coffee is like riding a cool avalanche of pure deliciousness down a tall mountain and landing in an ocean of good feelings," the website advertises. "You'll swim off into a day of work or play filled to the brim with pure joy."
While Washington and Colorado voted to legalize recreational pot, the former has been much slower in actually making the drug available to the public. State regulators have gone so slow, in fact, that they expect to have a firm set of rules in place allowing stores by July of this year, a full seven months after Colorado legalization became official.
Retail pot shops have fallen under the state Liquor Control Board's jurisdiction, with regulators estimating that about 500 of the 2,180 applicants will be allowed to open stores this summer.
"I think we all hoped for an earlier start," LCB chairwoman Sharon Foster told the Seattle Times. "But I'm very happy where it is right now. I have a twinkle of hope for the last week of June."
You can share this story on social media: