Preteens stab their friend 19 times to prove loyalty to fictional monster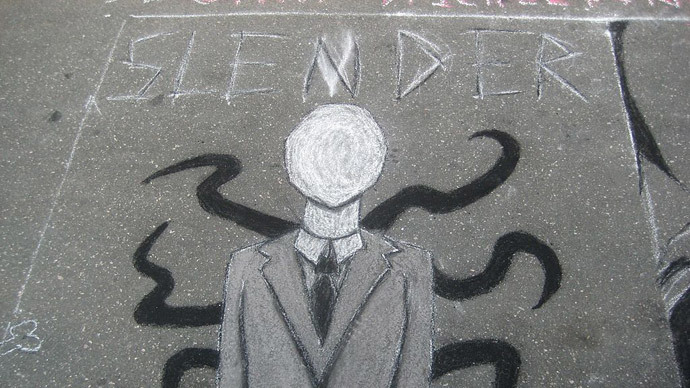 A horror movie came to life in Wisconsin when two preteens attempted to stab a friend to death after a birthday sleepover to prove their loyalty to a mythological character from a scary story website.
On May 30, Morgan Geyser celebrated her 12th birthday by having a sleepover with Anissa Weier and another friend identified only as P.L., both of whom are also 12. But the real point of the get-together was to sacrifice the third girl to Slender Man by stabbing her to death, police said in their report.
Slender Man is a fictional character on the horror story site Creepypasta, where users share their nightmares and other short stories "designed to unnerve and shock the reader." Slender Man "is an alleged paranormal figure purported to have been in existence for centuries, covering a large geographic area." He induces fear and ensnares his prey, putting his victims into a hypnotized state, then "he absorbs, kills, or merely takes his victims to an undisclosed location or dimension" and is rumored to kill children "almost exclusively."
Slender Man is also believed to be the leader of Creepypasta, and just below him is the killer and below the killer is the proxy. "Weir stated in order to be a proxy, you needed to kill a person. This would show your dedication to [Slender Man]," court documents said. "Weir stated that many people do not believe [Slender Man] is real and she stated she wanted to prove the skeptics wrong." The two 12-year-olds began plotting to become proxies in December or January, and selected the date - Geyser's birthday - in February.
So on Friday, the three girls spent the night at Geyser's house. Originally the plan was "to put duct tape over P.L.'s mouth, stab her in the neck, put the covers over her to make it look like she was sleeping and run." But the plan changed that night, and the two Slender Man devotees decided to kill the third girl the next morning in a park bathroom, where there was a floor drain "for the blood to go down," and then "stabby, stab stab," Geyser later told police.
But once they got to the bathroom, Geyser handed Weier the knife "because Weier knew all the weak spots," but the girl couldn't go through with it, and asked the birthday girl to do it. But she "had a nervous breakdown and Weier had to calm Geyser down."
So then the girls decided to try the woods, where they played hide-and-seek. Weier told P.L where to hide and that she should lay face down in the dirt. When the victim refused Weier sat on her, and she began screaming. The two perpetrators began secretly debating who would do the restraining and who would do the stabbing, they told police. Eventually they decided Geyser would wield the weapon, but not until Weier told her to, at which point the birthday girl would "go ballistic, go crazy."
When Weier told her "kitty, now," Geyser responded, "Don't worry, I'm just a little kitty cat."
Geyser eventually stabbed P.L. 19 times, during which the victim screamed, "I hate you. I trusted you."
After the deed was done, Geyser hid the knife in her backpack and the two girls left, promising to get help, which they had no intention of doing.
P.L. was able to stumble out to the road, where she was found by a bicyclist, who called police. Although in "extreme pain," she was able to identify her assailants for the officers.
The victim was taken to the hospital, where she underwent surgery. Doctors told police that P.L. was "one millimeter away from certain death." She remains in the hospital in stable condition after fighting for her life, the Milwaukee Journal Sentinel reported.
Geyser and Weier were charged with attempted first degree homicide and are being held on $500,000 bail each.
"I believe [killing someone] is taking a life and I regret it," Weier told police, according to the court documents. "The bad part of me wanted her to die, the good part of me wanted her to live."
But it was different for Geyser. "It was weird that I didn't feel remorse," she told police. When asked what they were trying to do, she responded, "I may as well just say it. Kill her." She also said what they did was "probably wrong."
Waukesha County District Attorney Brad Schimel said he had never encountered allegations like these in his time as a prosecutor. "Most of the time in a crime like this, with such violence like this, there's spur of the moment, there's the heat of passion," he said, according to the Journal-Sentinel. "It's troubling when a person lashes out in anger. It's more troubling when they lash out in cold blood. Isn't that the worst kind of killer, the cold-blooded killer?"
In reaction to the story, Creepypasta user Sloshedtrainwrote, "This is an isolated incident, and [does not] represent or attribute the Creepypasta community as a whole. This wiki does not endorse or advocate for killing, worship, and otherwise replication of rituals of fictional works. There is a line of between fiction and reality, and it is up to you to realize where the line is. We are a literature site, not a satanic cult."
You can share this story on social media: