Anonymous philanthropist gives out money in 'biggest scavenger hunt in LA history'
Published time: 31 May, 2014 23:18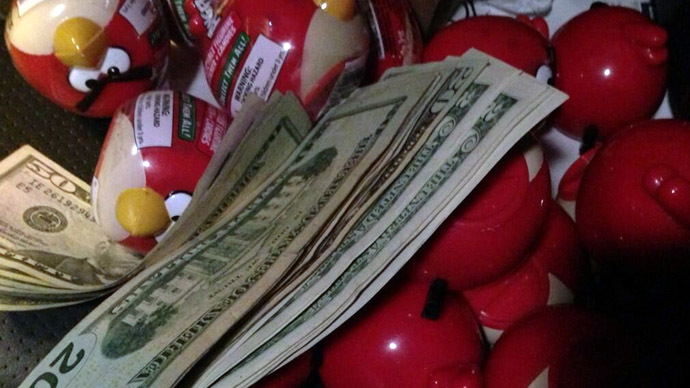 An anonymous wealthy man launched the "biggest hunt in LA history" on Saturday when he organized a scavenger hunt by hiding money and posting clues on Twitter. The game has sparked a frenzy in California, beginning over a week ago in San Francisco.
The donor, who has not revealed his identity, made several drops in LA on Wednesday and Friday, but promised an "epic, gigantic scavenger hunt" on Saturday.
Tomorrow will be the biggest scavenger hunt in LA history, as THOU$ANDS of $$$ are hidden along a small stretch of beach. 11 AM tweet!

— Hidden Cash (@HiddenCash) May 31, 2014
Stuffing birds. Bring the choppers, bring your kids, bring your friends to the beach 2mrw. This will be FUN. 11 AM. pic.twitter.com/bNFiRavqrQ

— Hidden Cash (@HiddenCash) May 31, 2014

Hundreds of people dashed to the seashore in Hermosa Beach, LA County, looking for 36 Angry Birds containers filled with cash.
The lucky ones have been posting their discoveries on Twitter.
@HiddenCash ___awseome :) love the incentive to get people in touch. Have fun, can't wait to see the winners pic.twitter.com/NokHscfcWG

— Jennifer Landa (@BubbieLaRue) May 31, 2014
Thank you @HiddenCash $124 & candy for these 2 excited&beautiful girls at hermosa beach! #payitforwardpic.twitter.com/wVQa4t79gq

— sean howard (@smhowbruin) May 31, 2014
Thanks @HiddenCash for the hundo! $$$$ pic.twitter.com/QASnd5KN6j

— Hey, It's Tony Sam! (@ToeKneeSam) May 31, 2014

Twitter user @HiddenCash started the game in San Francisco on May 23, making drops of money over the week ranging from about $20 to over $200 in various locations such as under chairs, inside phone boxes, in parks, on trash cans, and even in restrooms.
Hey, sorry, I know that last one was kinda nasty, but I needed the restroom and people near me were looking on the wrong side of the park.

— Hidden Cash (@HiddenCash) May 31, 2014
Tatiana Ramirez, 14, of Pacoima finds $210 in Burbank thanks to @HiddenCash#mapit@abc7pic.twitter.com/TgVOm5yjyd

— Robert Holguin (@ABC7Robert) May 30, 2014

The benefactor wrote that the game is "an anonymous social experiment for good." Since he created the account, he has already gained over 399,000 followers as of Saturday.

The unknown donor wrote on Twitter that the idea of the treasure hunt came to him spontaneously last Thursday while dining with a friend. The man said he thought it would be a fun way to give back to the community.

"I've made millions of dollars the last few years, more than I ever imagined, and yet many friends of mine, and people who work for me, cannot afford to buy a modest home in the Bay Area," the philanthropist wrote in response to a question asked by San Francisco online news site The Bold Italic.

The covert philanthropist has been criticized by those who believe the money could be better spent.

In response, he wrote: "Because people asked, just want to say that @Hiddencash is NOT instead of charity. We support many charities too. This is for fun."
Nice! Some of the @hiddencash winners are really #payingitforward@Treichelc, @Thepacifics@Veehighnesspic.twitter.com/2KynwkI7kA

— Grace Mendoza (@ProducerGrace) May 31, 2014