Secret millionaire creates Twitter scavenger hunt with hidden envelopes of cash around San Fran
Published time: 27 May, 2014 20:00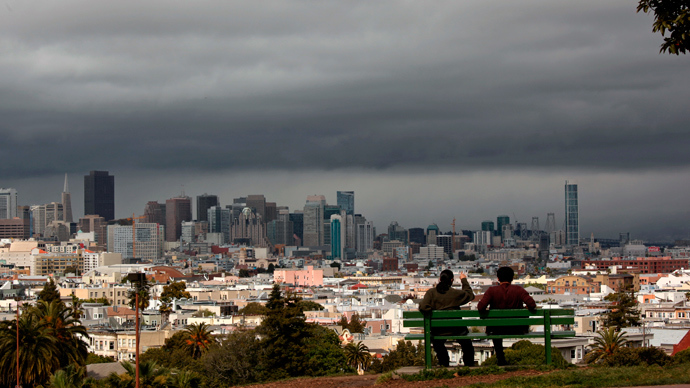 A millionaire known only by the Twitter handle @HiddenCash is leaving a lot more than his heart in San Francisco: he's leaving envelopes filled with cash around the City by the Bay in a scavenger hunt that is part social experiment.
It began with an anonymous tip to a local online magazine, saying money was hidden throughout San Fran.
"This will continue indefinitely. There is nothing commercial behind this. It is a social experiment," the email to The Bold Italic said. "Our Twitter page will show people where the money is hidden. There are a few hundred dollars hidden last night already, and this will continue. We have two $100 bills hidden and some $20s."
And then came the tweet that kicked off the scramble for cash.
@thebolditalic - we love you. Just hid some cash in front of your office at 34 Page St. (Hint: Find it where a bike would be)

— Hidden Cash (@HiddenCash) May 23, 2014
Now almost 70,000 people follow the mysterious donor who has been stashing envelopes stuffed with $20 and $100 bills around the California city and its suburbs since Friday. He tweets the location of the money with some hints.
"An anonymous social experiment for good," the Twitter profile reads. "Real Cash hidden around SF & beyond. Find the $ - share tweetphoto + tag @hiddencash."

A couple new drops in SF today. Hint: Hope the sea lions don't get it.

— Hidden Cash (@HiddenCash) May 27, 2014
The donor took part in an email interview with the San Francisco Gate - as long as his cover wasn't blown. The only hints he gave about his identity were that he is a man between 35 and 45 years old.
"I just closed a real estate deal where my profit was about half-a-million dollars, and I decided even before it closed that one of the things I wanted to do with the money was something fun in [San Francisco]," the mysterious man told the Gate.
New drop: come for the cash, stay for the views. pic.twitter.com/XMUyh6XB2D

— Hidden Cash (@HiddenCash) May 27, 2014
The real-estate magnate says he plans to remain cloaked in anonymity. "There are a few reasons I would like to keep my privacy," HiddenCash said. "One, some people close to me wouldn't like that I am giving money away. Two, I enjoy having my privacy. Three, (I) had some publicity before and nothing good ever resulted from it."
He says the scavenger hunt is in addition to charity.
Because people asked, just want to say that @Hiddencash is NOT instead of charity. We support many charities too. This is for fun.

— Hidden Cash (@HiddenCash) May 26, 2014
But that's not to say that charity is completely separate from the hunt.
@HiddenCash@haighteration sweet! Thank you!!! Coming back later to donate some top tier books. #ilovesfpic.twitter.com/tt7MA85hXF

— Nick Lamb (@NickelNickel) May 24, 2014
Some of the people who find the envelopes are paying it forward as well.
thanks @HiddenCash, sharing most of it with other beachgoers. have a great day! pic.twitter.com/U5HDUTeQDT

— Forrest Hanson (@gumplr) May 26, 2014
HiddenCash told KTVU he loves the idea of the treasure seekers paying it forward. "If people need the money for themselves, that's fine. But if they can share it that with others, that would be great," he said. "I've heard some heart-warming stories from people donating to charity and sharing it with other people who are less fortunate."
Some people, like Matt Burkurt, who found an envelope on top of a bulldozer parked near Ocean Beach on Sunday, are doing it more for the thrill of the chase than for the potential windfall.
"People like to be right, to find clues and follow something to the end. Find something that nobody else has found yet," Burkurt told KTVU about the envelope with $100 in it. "On the front it says, 'With love, from Hiddencash'."
@HiddenCash YESSSSSS had to race another searcher but I WON. (Old catapillar bulldozer on ocean beach) pic.twitter.com/JsUxk7QXCv

— Matthew Burkert (@mattypatty513) May 26, 2014
But he also plans to be altruistic with his findings by taking his office out for lunch. "I didn't budget for an extra hundred dollars, so might as well give it to somebody else, right?" Burkhurt said.
While the envelopes are meant to "put a smile on someone's face," the real-estate investor told KTVU, karma seems to be rewarding him already.
Crazy coincidence/fate, but right after I put up the envelope, I found $5 bill on the ground! Added to the loot. pic.twitter.com/5bn79czAqr

— Hidden Cash (@HiddenCash) May 25, 2014
Between Thursday night and Sunday, the anonymous donor gave away more than $4,000, Newser reported. He is using the help of friends to make his drops, which happen multiple times an hour.
He says the money is a drop in the bucket for him. "I'm giving right now about a thousand a day," HiddenCash said in a phone interview with ABC News. "For me, that's definitely manageable. I know that for most people it's more than they earn, but I'm in the top 1 percent. I can keep doing this."
Even those who lose out on finding the cash are good-natured about it, saying the thrill of the chase has gained them new friends.
@HiddenCash didn't make it in time but I met a new friend @mrdic and we made a video of my defeat https://t.co/jNiOCk9jBP shoutout to @smule

— Turner Kirk (@EfficiencyJunky) May 23, 2014
A winner agreed. "The money was great but it was also so much fun doing something like this. It was a scavenger hunt," Richard Rodriguez, who found an envelope with $66 in cash and a lottery ticket that won him an additional $5, said to ABC News. "It's not a lot of money. It's not going to change your life. But the camaraderie it brings out in people is a lot of fun."
HiddenCash says he plans on expanding across the country. He and his friends will hit up nearby San Jose on Wednesday and Los Angeles this coming weekend. New York City is also on the list of near-future scavenger hunt locations.