Police knew about but didn't watch Santa Barbara gunman's videos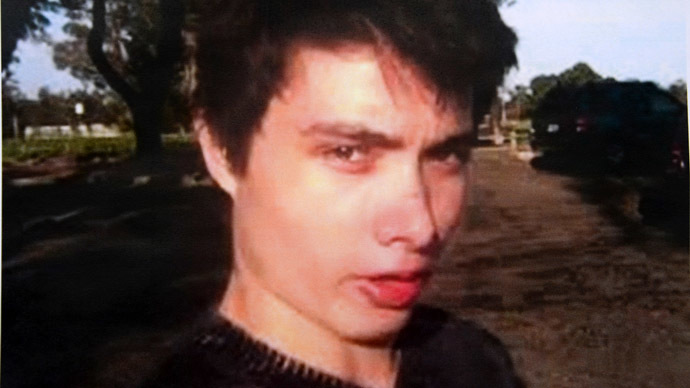 Police knew about Elliot Rodger's YouTube videos in the weeks before he went on his killing spree, but did not watch them until after he killed six and injured over a dozen more, officials admitted on Thursday.
Hours before the shooting spree last Friday, Rodger posted a YouTube video in which he demonstrates his hatred of women and popular kids.
"You girls have never been attracted to me. I don't know why you girls aren't attracted to me. But I will punish you all for it. It's an injustice, a crime," he said in the video, his speech punctuated by bursts of laughter. The clip has since been removed from YouTube.
But even before his murderous rampage, Rodger's mother had contacted his therapist about the "bizarre" videos he had been posting on YouTube. The therapist contacted a mental health service, who referred the matter to police, a family friend told the Los Angeles Times. In April, a person who identified himself as a friend of Rodger called a county mental health staff member seeking help for the young man. Combined with information from Rodger's mother, the staffer requested a welfare check, sheriff's officials said.
On April 30, four deputies, a UC Santa Barbara police officer and a dispatcher-in-training arrived at Rodger's apartment. The group - larger than normal for a welfare check - included deputies who were "familiar with Rodger" after a January incident, when he accused a roommate of stealing $22 worth of candles, police said.
"Sheriff's deputies concluded that Rodger was not an immediate threat to himself or others, and that they did not have cause to place him on an involuntary mental health hold, or to enter or search his residence," the sheriff's office said in the statement released Thursday.
"When questioned by the deputies about reported disturbing videos he had posted online, Rodger told them he was having trouble fitting in socially in Isla Vista and the videos were merely a way of expressing himself," the statement said. "Therefore, they did not view the videos or conduct a weapons check on Rodger."
In addition to the videos, the son of Hollywood director Peter Rodger had prepared a 141-page manifesto, which he called his "Day of Retribution," laying out his plan for the killings, starting with luring potential victims to his apartment. But he also referred to the welfare check.
"I tactfully told them that it was all a misunderstanding, and they finally left. If they had demanded to search my room ... that would have ended everything," he wrote. "For a few horrible seconds I thought it was all over. When they left, the biggest wave of relief swept over me."
Chris Pollard, 22, a neighbor of Rodger's interviewed by Reuters after the shootings, described watching the latter's videos, titled, "Spring break sucks when you're lonely"and "My reaction to seeing a couple at the beach...envy."
"It was a clear cry for help," said Pollard, adding that he had found the videos too disturbing to watch in their entirety.
Pollard also admitted he didn't think the police could have done any more during their visit. "I mean, how far can you go without violating somebody's rights?" he said. "When you looked at [Rodger], there was no reason to get concerned. He didn't seem like a threatening or intimidating guy. He was just very quiet."
At the end of their 10-minute visit, police briefed Rodger's mother and gave the troubled young man information on local support services, then left. "The sheriff's office has determined that the deputies who responded handled the call in a professional manner consistent with state law and department policy," their statement said.
But mental health experts are still questioning why officials didn't watch the online videos, available for anyone to view.
"If somebody was concerned about [the vidoes] enough to report them it would seem to me to be part of the checkup," Ann Eldridge, vice president of the local chapter of the National Alliance on Mental Illness, told the LA Times.
Although seeing the videos might not have changed the outcome, it would have been part of a thorough investigation, Rick Wall, a former Los Angeles police captain who oversaw that department's mental health team, told the Times.
In his May 24 spree, Rodger stabbed three people to death and then shot another three near the campus of the University of California, Santa Barbara. He also opened fire on bystanders from his car and then on foot, which eventually ended when the 22-year-old killed himself after a shootout with police. The incident happened in the town of Isla Vista, near Santa Barbara. Aside from the six people he killed, 13 people were also injured in the attack, including eight who were shot.
His parents, Peter Rodger and Li Chen, raced to the California town last Friday night after reading an email from their son's therapist and seeing his latest YouTube video, frantically hoping to stop him.
"[They are hearing] that a black BMW is involved and they're living their nightmare," family friend Simon Astaire said on NBC's the Today show, where he had read a statement from Chen and the elder Rodger. "They're hearing their son is murdering people."
The Santa Barbara Sheriff's Office did not detail the content of the earlier videos, describing them only as "disturbing" in their statement.
You can share this story on social media: