Utah leaves Oktoberfest without beer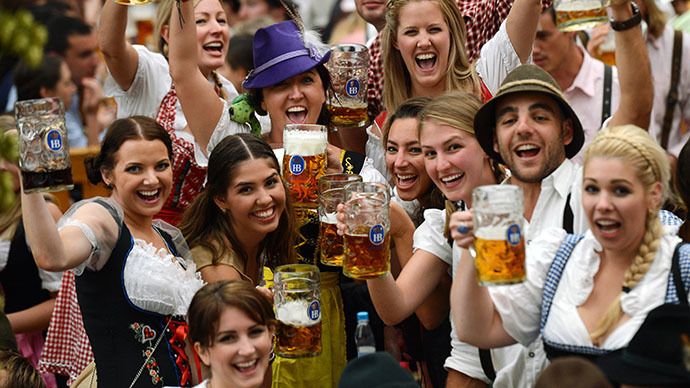 A Utah ski resort's annual Oktoberfest may soon be without its inspiration for copying Munich's biggest beer festival in the world as state regulators crack down on alcohol permits for festivals and other one-time events.
"We're trying to send a signal that we are tightening up and we are reluctant to grant [single-event permits] to for-profit organizations," David Gladwell, chairman of the state liquor commission, said Tuesday during the board's monthly meeting, according to the Salt Lake Tribune. "For those who have applied in the past, this is a change of direction and one that is probably unsettling."
That includes Snowbird Ski Resort, which hosts an Oktoberfest that dates back to 1973 and draws about 60,000 people annually. "Not having a liquor permit for Oktoberfest would hurt a lot," Bob Bonar, general manager for Snowbird, told the Utah Department of Alcoholic Beverage Control (UDABC) at the meeting, the Associated Press reported. "It's the second best thing we do after powder skiing."
Before the meeting, the resort still hadn't received a permit for an event a bit closer on the calendar: Its sixth annual Father's Day Brewfest in mid-June.
"That's tough for a business to take two weeks ahead of the event," Bodnar said, arguing for approval. After a long debate, that permit - Snowbird's only pending one - was granted.
Under state law, single-event permits allow beer, wine and spirits to be served ­at one-time community and civic events, the Tribune reported. Groups and businesses are allowed up to 12 special-event permits per year.
"We just felt that maybe we were allowing something the legislature had not intended," Gladwell told FOX 13. "We felt like previous commissions had maybe drifted a little bit from the rules we had imposed on ourselves."
"We're reexamining our policies in all respects," Gladwell said. "It's a healthy thing. It's a good thing."
That reexamination hasn't led to a final policy yet, though. Commissioners haven't yet reached an agreement on how to interpret the rules. "We are not of one mind right now," Gladwell said to the Deseret News, adding the commission could call on state lawmakers to clarify the rules. "The commission is somewhat divided. This is a policy in progress."
The discussion came about because regulators felt repeated requests by companies were an abuse of the single-use permits. UDABC compliance director Nina McDermott told the Tribune that, under the rules, the single-event permits are meant primarily for nonprofit, charitable events.
"It's just a concern as to whether the department is using the rules on the books and analyzing these things," Sal Petilos, executive director for the UDABC, said during an online Trib Talk with The Salt Lake Tribune on Wednesday. "We may very well be in a Catch-22 if we say we have these rules on the books but we haven't been following them."
An estimated two-thirds of residents belong to the Mormon church, AP reported. Avoiding alcohol use is a fundamental part of being considered a fully practicing member of the faith, and those who drink face social stigma and are barred from worship in temples.
Business owners associated with the tourism, restaurant and beverage industries have fought to "normalize" liquor laws in the state, bringing them more in line with the rest of the country. Under current regulations, the alcohol content in beer is limited to 3.2 percent, and liquor cannot be sold before 10 a.m. or after 1 a.m., Raw Story reported. In 2009, Utah did away with a requirement for bars to operate as members-only social clubs, but other proposed rules have run up against the powerful Mormon church, according to AP.
During Tuesday's meeting, Bonar argued that a "for-profit businesses should not automatically be disqualified," since that is not specifically spelled out in state law, the Tribune reported. "Adopting that takes Utah back 25 years," he said.
UDABC's Petilos mentioned during the Trib Talk that, as a potential compromise, liquor regulators might allow for-profit businesses to donate a portion of ticket-sales proceeds to charity in order to receive a single-use permit.