Mormons for gays steal Pride festival
No, the Queer Utah Aquatic Club's swim-suit clad marchers were not the stars of the state's annual Pride festival in Salt Lake City this past weekend. All of the attention this year was on the Mormons.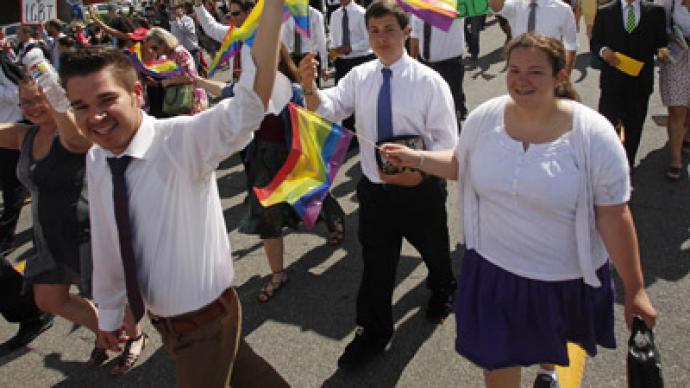 The Mormons? Yes, the Mormons. Those ones.Around 300 members of the group Mormons Building Bridges were sandwiched between thousands of other marchers during the annual Utah Pride Festival on Sunday in downtown Salt Lake. For a religious movement that has come far from publically accepting homosexuality, the group on hand over the weekend downright celebrated it."This march is not a political gesture; rather it is a simple statement that average Mormons do love their LGBT brothers and sisters and want to make that message clear," Erika Munson, founder of Mormons Building Bridges, writes on the group's Facebook. Munson's organization has no direct relationship with the Church of Latter Day Saints, officially, although she was just joined by hundreds of them during the event."I feel like this is the time to speak up. I've always felt like I was supportive in my own way of the LGBT community but I've had to keep that and my commitment for the church separate," Munson adds to Reuters.On the Mormons Building Bridges Facebook page, the group adds that their relationship with the lesbian, gay, bisexual and transgender community has not always been a pretty one. "This Church has felt the bitter sting of persecution and marginalization early in our history," a statement reads, but not before lecturing that "… Each Latter-day Saint family and individual should carefully consider whether their attitudes and actions toward others properly reflect Jesus Christ's second great commandment – to love one another." "I have a friend who asked me … why I wasn't at church today and I said, 'I'm going to the gay pride parade,' " one Mormon marcher with the group tells local news network KSTU."'He said, 'Don't Mormons hate gay people?' "I said, 'Some do, but I don't.'"The parades grand marshal, openly gay Academy Award-winning screenwriter Dustin Lance Black, celebrated the group's involvement in this year's event."They are fostering a level of acceptance that hasn't traditionally been there," Black said in a statement published by Reuters.Along the parade route, spectators supported the religious group for opening up to the LGBT community. "I think it's amazing," Holly Nelson, 38, tells the Salt Lake Tribune from the sidelines with teary eyes. "It's been so hard to be in Utah knowing the Mormon Church is against the gay community."The LDS Church openly condoned California's gay marriage ban, Proposition 8, but Munson tells Fox 13 in Salt Lake City that Mormons Building Bridges does not take a stance on the issue.
You can share this story on social media: