American who joined Syrian rebels becomes first known US suicide bomber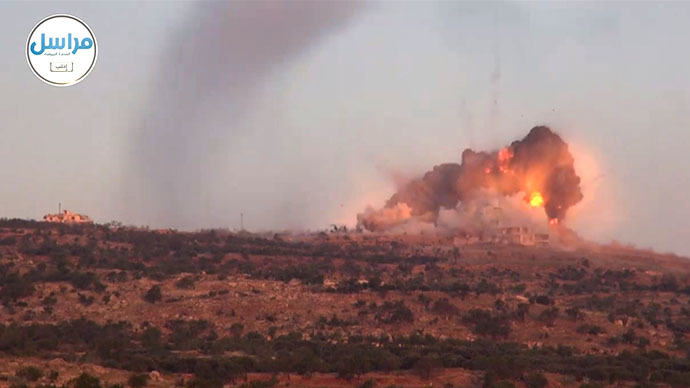 Social media posts by an Al-Qaeda affiliate claim a man named Abu Hurayra Al-Amriki (Abu Hurayra the American) blew himself up in an attack in Syria. US officials say he is the first-known American suicide bomber in the civil-war besieged country.
On Sunday, four men from the Al-Nusra Front, a jihadist organization aligned with Al-Qaeda, carried out suicide bombings on army positions in Idlib province, AFP reported. Dozens were killed or wounded, though exact numbers of casualties are still unknown.
Abu Sulayman al Muhajir, one of the top sharia officials in the Al-Nusra Front, according to The Long War Journal, tweeted about the involvement of an American man in the coordinated suicide attacks on Tuesday.
Abu Hurayra Al-Amriki Performed a martydom operation in Idlib, Jabal Al-Arba'een. May Allah accept him pic.twitter.com/MeewywKqDD

— أبو سليمان المهاجر (@abusulayman321) May 27, 2014
A Sunday tweet from Al-Nusra's Twitter feed appears to show the same man - a light-skinned Caucasian - sitting with three other men and wearing a bomb vest.
See our take on the original photo (pic.twitter.com/F55d89TofK) of 4 #Idlib bombers here: http://t.co/fvjF0GBrcw#Syria

— Syria Direct (@SyriaDirect) May 28, 2014
According to Google Translate, the original Al-Nusra tweet translates to "# _ Front victory in cooperation with the # Hawks _ Sham performs four martyrdom operations in Mount _ # # forty Idlib."
US law enforcement and counterterrorism officials confirmed the suicide bombing to NBC News and said they have identified the American, but would not release his identity or hometown.
Syrian rebel sources based in London told NBC News that other jihadi tweets suggest the American was of Palestinian descent.
Any identity can't be confirmed until remains are recovered or examined, a US law enforcement official told CNN. But the size of the blast, which contained 17 tons of explosives, would make finding remains for identification difficult.
An anti-government activist near the bombing site confirmed the attack to the New York Times via Skype. He also said he had seen the American previously, but had no interaction with him. "I know he was an American, had an American passport and that he was with the Nusra Front," the activist identified only as Ahmed told the Times.
Al-Nusra Front and other Islamic extremist groups in Syria have been trying to identify, recruit and train Westerners (especially Americans) to carry out attacks when they return home from fighting in the Syrian civil war, according to senior American intelligence and counterterrorism officials.
"There will come a time when those fighters are going to flow out, they're going to come back to Europe and to the United States -- and those of us who remember history remember the flowing out of Afghanistan in the 1980s by the fathers of al Qaeda. You can draw a line between that and 9/11," FBI Director James Comey told ABC News in an interview last Monday. "We are not going to allow a line to be drawn from this coming Syria diaspora to a future 9/11."
Laith Alkhouri, an NBC News counterterrorism analyst, warned that the social media, including videos of the attack like the one below, will be used to recruit more jihadists. "There is no doubt [the American's] image and action will be used in future propaganda material,"he said.
Last Thursday, the Justice Department asked Stephen Ponticello, a top prosecutor in its National Security Division, to lead US efforts aimed at stemming the flow of foreign fighters to war-torn Syria, ABC News reported. Most Americans have joined the rebels battling President Bashar al-Assad.
Syria was plunged into civil war in 2011 when peaceful uprisings against Assad descended into violence. More than 150,000 people have been killed and millions more have been displaced in the three years since fighting began. The rebels are made up of a very loose coalition of opposition groups, some of whom - like Al-Nusra Front - have openly affiliated with Al-Qaeda.
You can share this story on social media: