Suicide bomber kills at least 30 in Syria - state media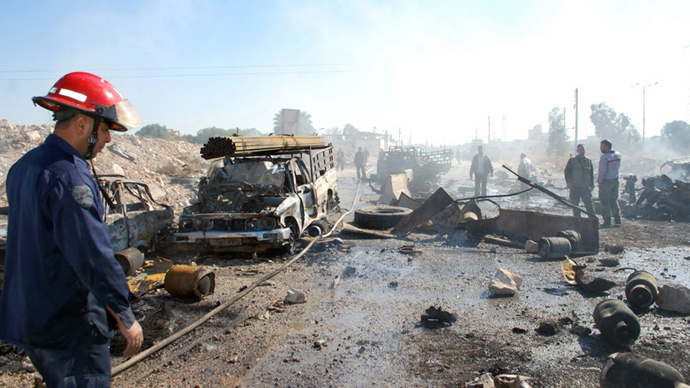 A suicide bomber driving an explosive-laden truck which killed at least 30 people and wounded dozens in the government-held Syrian city of Hama, state media reported.
"A terrorist car bomb explosion went off near an agricultural vehicle company on the edge of Hama city," SANA news agency reported.
The vehicle employed in the attack was reportedly packed with 1.5 tonnes of explosives. The explosion apparently set a nearby fuel truck on fire, increasing the damage and casualties, the agency added.
The pro-opposition Syrian Observatory for Human Rights said the "violent explosion shook the Sinaa highway in Hama city moments ago, followed by intense gunfire."

"At least 31 people, including regime troops, were killed when a man detonated a truck laden with explosives at a checkpoint near an agricultural vehicles company on the road linking Hama to Salamiyeh," the British-based group said.

They said the death toll is likely to rise, as dozens were wounded in the blast, "some of them in critical condition".

Images broadcasted on Syrian TV showed firemen battling to extinguish a massive blaze as black plumes of smoke rose from charred trucks and cars.

In the initial months following the uprising against President Bashar al-Assad's government in March 2011, Hama was the scene of large-scale anti-government demonstrations.
Security forces stormed the city that year in an often violent operation to regain control of the city which saw scores killed. The city has remained firmly under government control since that time.
Although violence has only continued to intensify across Syria, Hama has only witnessed intermittent fighting in recent months. The surrounding province, however been the scene of often intense clashes between troops and rebel fighters.
The city resonates along the country's sectarian fault lines, having been the scene of a violent uprising by the Sunni opposition in 1982. Then-President Hafez al-Assad, father of Bashar sent in troops to stave off the revolt, razing the city and killing tens of thousands in the process.   

You can share this story on social media: