CNN retracts story that giant asteroid will destroy Earth on March 35, 2041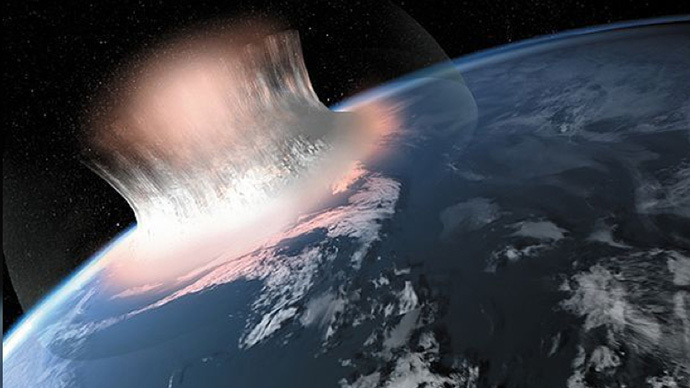 This is CNN… issuing a correction over a viral, user-posted report that a giant asteroid is on a collision course with Earth, and would wipe out life on the planet on March 35, 2041. Now "the most trusted name in news" has space egg on its face.
The report, called "Giant asteroid possibly on collision course with Earth," was posted over the weekend by iReport user Marcus575. It quoted NASA's Jet Propulsion Laboratory as saying a 10-mile wide object is on a trajectory that could bring a "high speed collision course with our fragile planet" from 51 million miles away or so. The date of the "potentially lethal encounter" was listed as "March 35, 2041."
The post notes in multiple places it is not vetted for or by CNN.
See a screenshot of the iReport below, captured by NASA Watch's Cowing.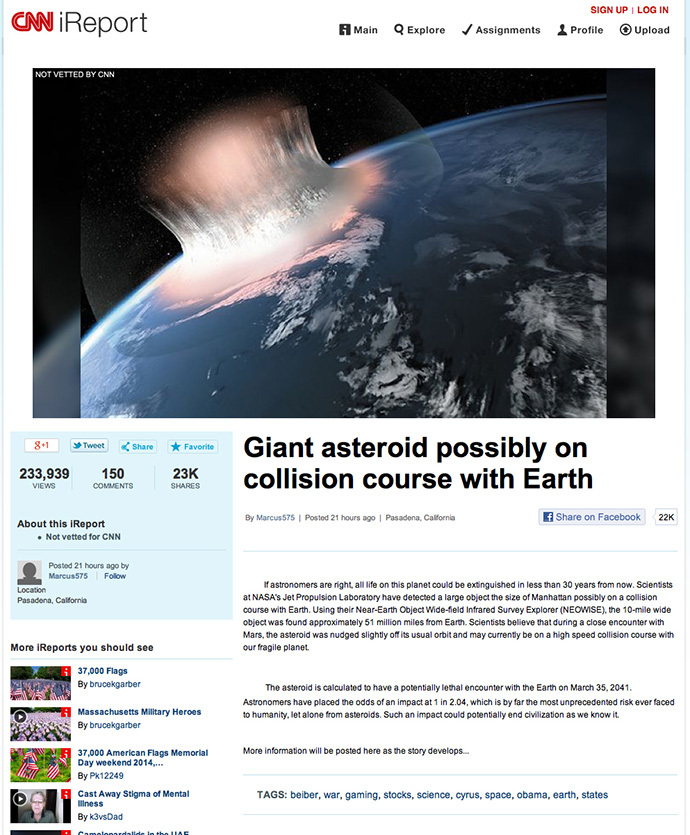 The iReport was pulled down on Monday, but not before it received over 250,000 views and was shared over 24,000 times on Facebook, Salon reported. Not to mention, several major publications linked to it, according to CNET.
CNN replaced the post with a statement: "NASA has confirmed via email that this story is false. A spokeswoman for the Jet Propulsion Laboratory says that the largest object detected by NEOWISE measures 3 km in diameter and poses no risk to Earth. The iReport has been removed," a CNN iReport producer wrote.
Now that we know we're not all going to die, nor do we need to send Bruce Willis and Ben Affleck into space with a nuclear bomb (and Steven Tyler wailing in the background), the media is focusing on how the hoax will affect the reputation of the first 24-hour cable news network.
"CNN destroyed by huge asteroid: What happens when a news [organization] fails to fact-check or monitor user-generated content? Your brand goes boom," the Salon headline about the fake post read.
CNN describes iReport - its user-generated social media platform - as "an invitation for you to be a part of CNN's coverage of the stories you care about and an opportunity to be a part of a global community of men and women who are as passionate about the news as you are."
The website notes that the content is not moderated. "Everything you see on iReport starts with someone in the CNN audience. The stories here are not edited fact-checked or screened before they post. CNN's producers will check out some of the most compelling, important and urgent iReports and, once they're cleared for CNN, make them a part of CNN's news coverage."
Comedian Stephen Colbert warned of just such problems on "The Colbert Report" in November 2011, when CNN laid off 50 staff members, mostly editors and photojournalists, calling them "redundant" due to user-generated content and social media on the network's iReport site. "Why buy the cow when you can have it shakily video tape its own milk for free?" Colbert asked, introducing a satirical sketch pointing out a multitude of issues with the iReport model.
Keith Cowing, a former NASA employee who runs the popular Nasa Watch blog, pointed out some of the clues the post was a hoax. "March 35? No comment from NASA. Love the tags: 'beiber, war, gaming, stocks, science, cyrus, space, obama, earth, states'," he wrote.
MIT's Knight Science Journalism blog delved deeper into the iReport's issues. "The grammar is wonky. The style suggests the writer might be lampooning overblown science writing," Faye Flam wrote. "The message is clear enough. It's not a nice thing to contemplate the first day back at work after a three-day holiday weekend, but the good news is that it looks like the only impact story here is the fact that the cable news network has slammed the Earth with an enormous bolide of B.S."
Flam also originally mused, "One can only hope that with a proclamation of the end of the world, CNN wouldn't wait for NASA to 'confirm' that it's wrong." (That sentence has since been struck out.)
Salon's biting commentary of the incident ends with, "The only silver lining here: CNN's next bogus tale of annihilation probably won't get the same traction. It takes a lot of work to build a trusted brand. But ruining your reputation is easy."
You can share this story on social media: