Boy Scouts name frmr Sec of Defense Robert Gates as president
Published time: 23 May, 2014 02:07
Edited time: 23 May, 2014 02:15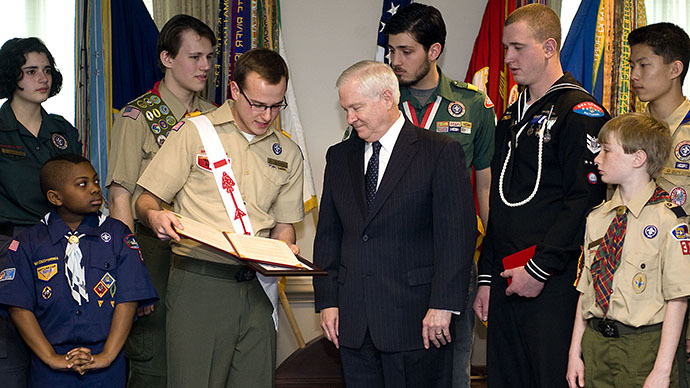 Former Secretary of Defense Robert Gates, who oversaw the end of the US military's 'Don't Ask, Don't Tell' policy, is the new president of the Boy Scouts of America, an organization still wrestling with its policies involving gay scouts and leaders.
The BSA National Council announced Gates as their national president on Thursday. He begins his two-year term as the group's 35th president immediately.
Gates served as the defense secretary under both Presidents George W. Bush and Barack Obama. He served as president of Texas A&M University after being the interim dean of the George Bush School of Government and Public Service at the nation's seventh-largest university. He spent 27 years as an intelligence professional, becoming the only person to rise from entry-level employee to director of the CIA, according to his Department of Defense biography.
But before all that, Gates achieved the rank of Eagle Scout at age 15, the Boy Scouts' highest advancement rank. He's also a past member of the National Executive Board, past president of the National Eagle Scout Association, a recipient of the Silver Buffalo Award and a Vigil Honor member of the Order of the Arrow.
"The Boy Scouts of America had a profound influence on my childhood and helped form the foundation of my career in public service. I've had tremendous opportunities in my life, but I can say without hesitation that my memories of Scouting are every bit as vivid and meaningful as what came later. I believe every boy deserves an opportunity to experience what Scouting offers," Gates said in the BSA's written statement. "Scouting teaches youth how to set and achieve goals, develops a deep commitment to serve others, and creates leaders for tomorrow who are not only prepared to serve their communities, but also prepared for life and leadership. Just as it did for me."
In an interview with Scouting Magazine published to coincide with the announcement on Thursday, Gates credited the youth organization for its influence on his life. "Scouting has been a big part of my family's life... In Wichita, Kan., in those days — before videogames and the Internet and all the rest — life pretty much revolved around family and school and church and Scouts," he said. "I've always joked that it was the best and only leadership course I ever took."
The announcement comes one day after gay-rights advocates handed a petition to Amazon asking the ubiquitous online retail giant to drop the Boy Scouts of America from its list of eligible charitable organizations under its AmazonSmile giving program. The petition, signed by 125,000 people, was started by 17-year-old Pascal Tessier after the Boy Scouts of America enforced its decision to exclude gay adults from the organization, Time reported.
Tessier, considered the first approved openly gay Eagle Scout, began gathering signatures after openly gay scoutmaster Geoffrey McGrath was expelled and his Seattle-area church's charter agreement was revoked by the BSA in April, according to Time.
"We're just asking [Amazon] to follow their own values and their own policies, because they're good values and good policies," McGrath told MSNBC. "We're asking them to make themselves proud."
"Obviously, they're known [at Amazon] for being very progressive and having great policies regarding LGBT employees," Tessier said to MSNBC. "We're asking them to change this one little thing; we're not asking them to change who they are and what they represent."
While serving as defense secretary, Gates oversaw the end of 'Don't Ask, Don't Tell,' the ban on gays serving in the military instituted during the Clinton administration. The law was repealed by Congress via the DADT Repeal Act of 2010, which provided for "the repeal of DADT to be effective 60 days after the President, the Secretary of Defense, and the Chairman of the Joint Chiefs of Staff certify to Congress that the Armed Forces are prepared to implement repeal," according to the Army. DADT officially ended on Sept. 20, 2011.
The Boy Scouts voted in 2013 to allow openly gay boys in the organization, but retained a ban on openly gay adult leaders. The BSA has 2.5 million youth members and nearly 1 million adults nationwide. Enrollment has declined slightly over the last decade, with a 6 percent drop last year, NBC News reported.
Gates addressed the BSA's change in gay youth membership policy in his interview. "I think it's an important step forward, and I strongly support it. No question that it was the right thing," he said. "Now we need to turn our attention to further improving the quality of the program, getting more kids into Scouting and re-establishing our unity as a movement."
The nation's former top spy is replacing Seattle businessman Wayne Perry as president, the BSA's top volunteer position. Gates is currently the chancellor at his alma mater, the College of William and Mary in Williamsburg, Va. Boy Scouts of America is headquartered in Irving, Texas.