Pentagon reportedly assigns 13k servicemen to first ever US-Jordanian-Israeli joint drill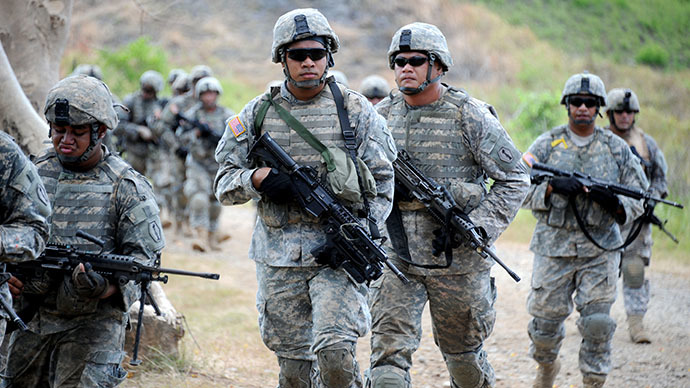 Roughly 13,000 additional American troops are in the Middle East right now as the Pentagon begins joint military drills with soldiers in the neighboring countries of Israel and Jordan.
The United States-Israeli exercise, "Juniper Cobra," which began earlier this week, involves participation from around 6,000 members of the US Eastern Command and 1,000 airmen, and will involve the joint missile defense systems used by the allies; on Saturday, more than 6,000 US Marines moved to Jordan will begin conducting drills there as part of the annual Eager Lion program.
According to Israel's DEBKAfile news agency, the activities in Israel and Jordan constitute "the first time that the US has unified two large military exercises," which is reportedly being implemented in order to counter an alleged advancement of Hezbollah troops.
"The two war games were planned as military maneuvers plain [and] simple until Wednesday, May 21," the site reported, "when news came in of large Hezbollah military forces heading toward southern Syria to help the Syrian army overcome the rebel forces fighting for more than a week to capture the Syrian Golan town of Quneitra opposite the Israeli and Jordanian borders."
"In the last few days, both Israel and Jordan have beefed up their Syrian border deployments and placed them in battle stations. Hezbollah's intervention in the Golan battle may well result in the war game being switched to combat operations for real," DEBKA claimed.
Earlier this week, the Jerusalem Post confirmed that the Jordanian military was redeploying forces along its border with Syria upon murmurings of growing insurgency there — a report that came on the heels of an announcement from Israel's Arutz Sheva news outlet that the US would send a Patriot missile battery and F-16 fighters to Jordan as part of Eager Lion and keep them there after the exercise is finished. On Tuesday, however, the Pentagon-affiliated Air Force Times said no such plans to leave weapons behind were in place.
Nevertheless, combined with US Navy presence in the Black Sea and the Mediterranean, more American service members than usual are now in the volatile region amid civil wars and skirmishes that have dominated international politics in recent months.
According to the International Business Times, the chief defense attaché for the US Embassy in Tel Aviv suggested recently that any expanded cooperation between America and its Middle East allies would greatly improve on those nations' ability to secure the region amid worsening tensions.
"If we were able to build a regional defense capability in say, Jordan, that capability could easily defend Israel, Jordan and even Egypt, if you so desired, adding one more layer to your multi-layered defense," the IB Times quoted the attaché, John Shapland, as saying
You can share this story on social media: