Nearly half of US unemployed have given up looking for a job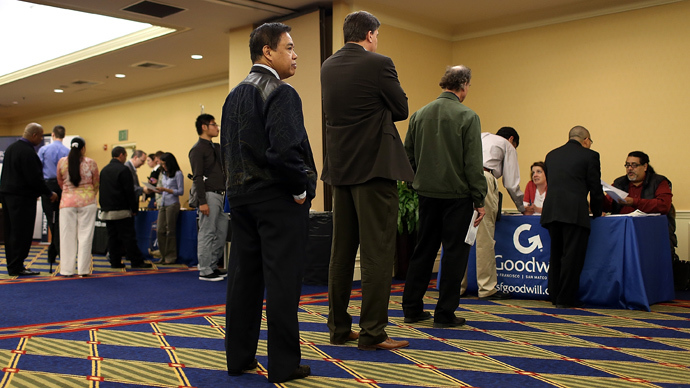 Nearly half of unemployed Americans are on the verge of completely giving up on looking for a job, but they remain optimistic they will find a job they really want within the next six months, a new survey found.
The poll, commissioned by staffing firm Express Employment Professionals, found that 47 percent of the 1,500 respondents agreed to some extent that they have completely given up on looking for a job, but only 7 percent said they agree completely with that statement.
"The study offers several surprising and sometimes troubling insights into how unemployed Americans are faring and what they're doing, and not doing, to get jobs," Bob Funk, CEO of Express and a former Chairman of the Federal Reserve Bank of Kansas City, said in a statement. "It also demonstrates why the labor force participation rate is so low – many people have given up looking for a job."
Over the past 12 months, the number of long-term unemployed (those unemployed for 27 weeks or more) has decreased by 908,000, according to the Bureau of Labor Statistics. The civilian labor force dropped by 806,000 in April, following an increase of 503,000 in March. The labor force participation rate fell by 0.4 percentage point to 62.8 percent in April. The jobless rate nationwide dropped to 6.3% last month -- the lowest level since 2008 -- as the nation added 288,000 jobs, according to the government.
"Though the unemployment rate fell in March and April, both drops reflected fewer people looking for work, not more employment," Nigel Gault, chief U.S. economist for the forecasting firm IHS Global Insight, said in a written assessment of the job market, according to NPR.
"After searching for four years and being unsuccessful, I am tired of trying," said one Express survey respondent.
But many jobless Americans are reluctant to make significant changes to boost their chances of landing a job. Only 13 percent of the survey's respondents have actively pursued more education. And they are unwilling to relocate: 44 percent of respondents said they are unwilling to relocate to a new town, while 60 percent said are unwilling to move to a new state. These numbers include 57 percent and 72 percent, respectively, of those unemployed two years or longer.
The economy took the largest share of the blame (45 percent) for respondents' difficulty finding a job, but 18 percent blamed the government, 36 percent blamed themselves and 32 percent blamed their last boss or someone else at their last company. And survey-takers don't seem to be optimistic about the economy improving: 46 percent believe the reason they are still unemployed is that there are no available jobs.
The job search is demoralizing for many, and 82 percent say they are becoming more discouraged the longer they look for a job, including 87 percent of those receiving unemployment benefits. Yet respondents remain optimistic, with 91 percent saying they are hopeful (to some extent) that they will find a job they really want in the next six months; 34 percent say they agree completely that they will be employed in the next half year.
Interestingly, only 80 percent of those who aren't receiving benefits are becoming more discouraged (though perhaps they can't become any more discouraged than they already are). The longer respondents are unemployed, 83 percent said, the harder they find it to keep working hard at finding a job. But 14 percent of respondents said that they do not find being unemployed really stressful at all.
"I've been feeling very dejected and depressed," Traci Polacco, an unemployed woman from Denver who dropped out of the workforce after a discouraging months-long job search, said to NPR. "The frustration comes when you apply to places like Subway, and you're told you're overqualified."
Polacco had several interviews while she was looking, including some second- and third-round callbacks, "but [I] haven't come close to grabbing that brass ring," she told NPR in a phone interview.
She's not alone. Survey respondents averaged 1.8 interviews in the last month, but 46 percent said they hadn't been on any interviews in April. Of the long-term unemployed, 60 percent didn't go on any interviews in the last month, including 71 percent of those unemployed two years or more. Only 15 percent of those who didn't go on an interview in April have had an interview at all in 2014.
A look at the numbers
Of the survey respondents, 86 percent are still looking for work, and 957 respondents (63.8 percent) qualify as long-term unemployed (those unemployed for 27 weeks or more) -- 35.7 percent haven't worked in more than two years. The long-term unemployed average 44.2 months without a job.
Those receiving unemployment benefits average 11 months unemployed, while those not receiving benefits average 26.2 months unemployed. But those numbers will change soon, as 44 percent of respondents will run out of those benefits by the end of June.
Length of Unemployment
3 months or less
4 to 6 months 7 to 12 months 13 to 24 months More than 24 months
Total # of respondents 309 234 208 214 535 1500 receiving benefits
96 67 34 28 31 256 Reasons for not receiving unemployment compensation % of respondents (out of 1244) I am not eligible
32 I never applied
30 My benefits ran out
27 I was denied benefits
10
So who are the unemployed?
The majority (57 percent) of respondents are male, while 43 percent are female.
Education level % of respondents high school or less 46 job-specific training programs after high school 7 some college 28 college degree 14 graduate school 5
As of March 2011, 30.4 percent of people over age 25 in the United States held at least a bachelor's degree, and 10.9 percent held a graduate degree, up from 26.2 percent and 8.7 percent 10 years earlier, the Census Bureau reported in 2012.
Base salary of those who last held a full-time job % of respondents (out of 903) Less than $15,000
13 $15,000 to $24,999
19 $25,000 to $34,999
20 $35,000 to $49,999
19 $50,000 to $74,999
17 $75,000 to $99,999
7 $100,000 to $124,999
2 $125,000 to $149,999
2 $150,000 to $199,999
1
What do their job searches look like?
Respondents said they only spend an average of 13.8 hours a week looking for work, despite the fact that experts recommend that looking for work should be a full-time job in itself when you're unemployed. "The upside to being out of work is that you have plenty of time to conduct a proper job search," Tammy Gooler Loeb, a career and executive coach told job-matching website The Ladders. "The downside is that you have too much time."
The majority of respondents - 68 percent - say they are getting some degree of help from others to find a job. But 51 percent say they don't have the resources to look for a job, including 52.3 percent of the long-term unemployed.
And unemployment benefits play a factor in how respondents attack their job search.
How unemployment benefits affect the job search % of respondents (out of 256) I would search harder and wider without benefits
82 I would be in such despair I would give up looking altogether without benefits
18 Benefits have kept me motivated and in the right frame of mind to conduct a job search
88 I haven't had to look as hard for a job because of benefits
48 Benefits have allowed me to turn down a job(s) that wasn't right for me
48 Benefits are providing me a cushion until Social Security kicks in
54
Unemployment compensation may also give respondents more flexibility in the types of jobs they're willing to take.
Type of job % of respondents
I am currently willing (to any extent) to accept available positions below my most recent pay level 83 I am currently willing (to any extent) to accept part-time positions 93 I am currently willing (to any extent) to accept temporary or seasonal positions 91 I am currently willing (to any extent) to accept contract positions 86 I am currently willing (to any extent) to accept almost any job that will help me pay my bills
89 I am currently willing (to any extent) to accept a job that allows me to use my education and skills
26 I am willing to take whatever job I can get 48 I am looking for a job with a company that has a history of stability to reduce my risk of losing a job even if it means a lower salary or wage 32 I am looking for a job that meets or exceeds my previous salary/wage and I would be unwilling to accept a job making less money 20 I'll only accept a job that I really want to do 34
You can share this story on social media: