Texas communities poised to run out of water within 3 months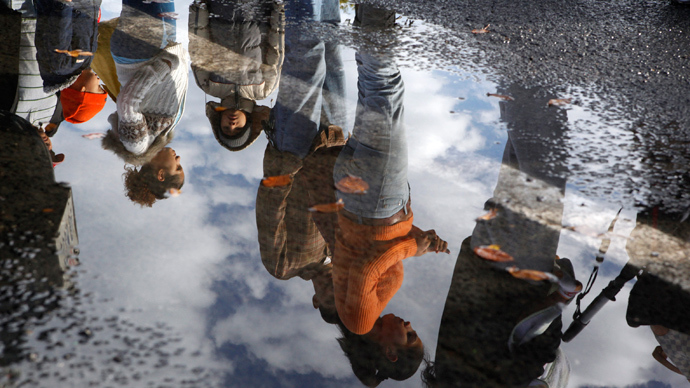 Dozens of Texas communities are feeling the effects of a water shortage that could render them without water within three months, a situation that would not only make residents thirsty but also hurt the economy.
No less than 34 municipalities throughout the state have warned that they are at risk of drying up entirely by the end of the summer, 12 of which warned they do not expect to have water within 45 days.
Bandera County, located in the center of the state, is among the worst hit regions, with Texans in Pebble Beach complaining that a small lake that their property sits on has receded by at least a mile. Green grass and plants have been replaced by flaky dirt, with the normally dense population of animals seeking water elsewhere. Residents have either hired a trucking service that delivers water from outside the area or spent tens of thousands of dollars to dig for it.
"The well-service people have been lowering pumps. Some have had to have new wells drilled. It's just a fact of nature," Bandera County Judge Richard Evans told KHOU-TV in Houston.
The shortage is caused by a booming population in Texas, where critics say the water planners failed to adequately understand how to properly distribute the supply. Approximately 90-percent of new Texans are moving to cities, leaving agriculture advocates to claim that smaller communities – which often have to accommodate large farms or other agribusinesses – have been left to fend for themselves.
"One of the dominant water management strategies for meeting future water supply needs is a conversion away from agriculture," Bill Mullican, a former water planner in Texas who knows works in a different state, told the Texas Tribune. He said there is only so much water for everyone, adding that "if you're going to bring agribusiness to Texas, I would think that you want to focus on those activities that were not water dependent or at least heavily water dependent."
Aware of the trend, an increasing number of farmers have shifted their business to growing dry crops and sold their water rights to private citizens. Yet Amy Harberger, a law professor at St. Mary's University in Texas, told KHOU-TV that solution does nothing more than put a Band-Aid on a serious long-term problem.
"We have sort of taken water for granted for a long time and I think that time is over. I think its valuation has gone up. Some communities are in more trouble than others," she said. "Does this mean we are always going to be able to water our lawns in the heat of the summer? Probably not."
Beyond the next three months, the shortage needs to be solved soon. Texas' population is on pace to at least double by 2060 (mostly in urban areas) yet the Texas Water Development Board only projects demand to grow by 22-percent in that time, according to the Houston Business Journal.
"If Texas does not do anything in the next 50 years, there will be a water shortage of close to 8.3 million acre-feet per year," Elizabeth Fazio, the director of the Texas House of Representatives' Committee on Natural Resources, told journalist Kritika Kulshrestha. "Just because you're not building supply doesn't mean they're not going to show up."
You can share this story on social media: