White House can't find critical letter on Iraq war from Blair to Bush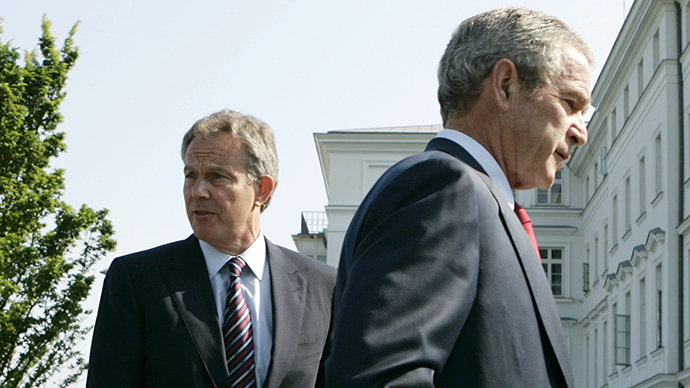 The British inquiry into the 2003 Iraq War has hit a major stumbling block, as White House officials have been unable to find an "absolutely critical" letter sent by former Prime Minister Tony Blair to George W. Bush.
Although public hearings regarding the Iraq War's buildup have been finished since 2011, when exactly the publication of the Iraq Inquiry will occur remains unknown. According to the Telegraph, the primary issue holding back the probe's results is a debate over letters sent between Bush and Blair, one of which has reportedly gone missing.
The letter in question was originally penned by Blair in 2003 – before the UK's House of Commons voted on whether or not to support an invasion – and allegedly stated, in its opening line, "You know, George, whatever you decide to do, I'm with you."
Referred to as the "with you whatever" letter, inquiry leader Sir John Chilcot is looking to publish it alongside other Bush-Blair correspondence. Many have portrayed the letter as evidence of Blair offering Bush absolute and uncritical support for his desire to go to war, but the problem now is that White House officials say they can't find it.
"The lawyers are taking months to evaluate the letters and decide whether to release them," the Telegraph stated. "However, they claim not to have been able to locate the 'with you whatever' letter."
For his part, Blair has denied that the reported wording of his letter is accurate. The document's contents were first brought to public attention in a book titled "The End of the Party," by Andrew Rawnsley.
This isn't the first time that disputes over the Bush-Blair letters have been reported. Just last week, the Daily Mail reported that Chilcot wrote to the UK's Home Office minister Norman Baker and confirmed that the delay is due to the fact that talks "about the disclosure of sensitive documents are not yet concluded."
In response, Blair was blamed for holding up publication of the investigation – an allegation the former leader himself has dismissed.
"The way the Blair government handled the Iraq war is perhaps the most shameful episode in the history of our democracy," Baker said. "The fact Tony Blair appears now to be holding up the proper release of information is a disgrace."
Government officials have stated that while they're interested in publishing as much content as they can, they must also take into account national security concerns and weigh whether or not making these records public would affect the relationship between the US and UK going forward.
Speaking on the issue a couple of days later, British Prime Minister David Cameron said the wait has been "frustrating," but added that publication should occur before 2014 is over.
"My understanding is that they will be able to publish before the end of the year and I very much hope they can deliver on that timetable," he said, according to the Telegraph. "The public wants to see the answers of the inquiry and I think we shouldn't have to wait too much longer."
You can share this story on social media: