Kentucky sues feds over right to grow hemp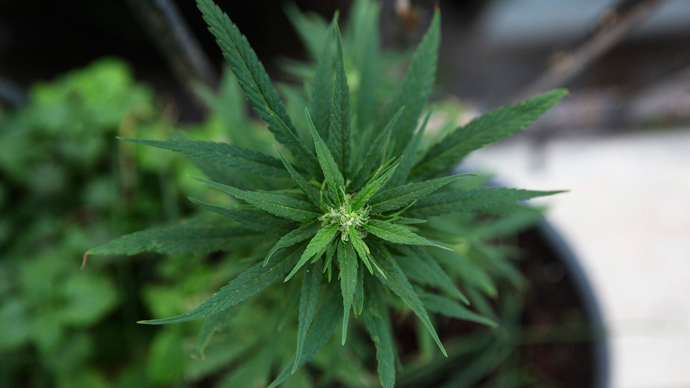 Attorneys for the state of Kentucky are in federal court Friday afternoon attempting to have the United States government release hemp seeds imported from abroad that were intended to be used in pilot growing projects.
It became lawful to use industrial hemp in Kentucky starting in 2013, and a farm bill signed by US President Barack Obama earlier this year paved the way for states to grow the crop for research. The US Drug Enforcement Agency nevertheless seized around 250 pounds of hemp seeds shipped from Italy to the University of Kentucky earlier this month, prompting state officials to turn around and sue that agency and others.
Even though the Department of Justice has started to recognize legal hemp cultivation, a federal law enforcement official told the US News & World Report this week that importing seeds still requires the state to abide by the Controlled Substances Act.
The Courier-Journal newspaper out of Louisville, KY reported that state officials thought they would be cleared on Tuesday afternoon to get the permit that would let researchers there begin experimenting with growing the crop, which for decades had been barred in the US. According to the paper, however, state officials weren't told of the Controlled Substances Act issue until later that evening.
"We're doing exactly what the federal law says, and they continue to hold up our seed," Kentucky Agriculture Commissioner James Comer told Courier-Journal reporter Gregory A. Hall. "I think they know that, and that's why they keep stalling."
Even US Senator Mitch McConnell (R-Kentucky), who serves as the Republican party's minor leader within the chamber, criticized the delays by telling radio station WVLK-AM this week that federal drug enforcers aren't doing the right thing.
"This is an agency tasked with cracking down on drug abuse in Kentucky, and they're using their finite resources to impound industrial hemp seeds, which are legal, at the Louisville airport while we've got a heroin epidemic in our state," he said. "You've got misplaced priorities here. They're sitting on a legal product, seeds that we need to get into the ground fairly quickly because of planting season, while we've got this heroin epidemic going on."
"It's ridiculous, if hemp is not being grown in the United States, how are we going to grow it without seeds?" Rep. Thomas Massie (R-Kentucky) added to US News. "You can buy a granola bar – in whichever city you're in – with hemp seeds on it. Everything made of hemp is legal to bring into this country."
According to the California-based Hemp Industries Association, hemp byproducts sold in the US generated $581 million last year, although the crops used for those retail items are mostly grown in China, Canada and Europe.
With the window for growing hemp in the US about to close on June 1, Comer and other officials are urgently trying to get their hands back on the seeds they believe they lawfully ordered. To expedite that process, a federal judge in Louisville is holding a last minute preliminary conference on Friday between state officials and the feds in order to determine how to move forward with a just filed lawsuit sent from the state's Department of Agriculture to US Customs and Border Protection, the DEA, DOJ and Attorney General Eric Holder.
US District Senior Judge John G. Heyburn agreed late Thursday that he'd preside over the matter the following afternoon.
"We're very grateful for the opportunity to be heard so quickly," Holly VonLuehrte, a spokesperson for Comer, told Hall.
Speaking to the Los Angeles Times this week, she added that the latest showdown between Kentucky officials and the federal government may help other states interested in growing hemp from getting those endeavors off the ground.
"We just need someone to settle the law so no other state has to deal with what Kentucky has been through," she said. "Right now, the law is whatever the DEA says it is."
"Our position is based on the well-settled principle that repeals of existing statutes by implication are not favored," the agency fired back. "Where, as here, there is a reasonable way to harmonize the new law with the existing law so as to give effect to both, this is the preferred approach."
You can share this story on social media: