'Knee Deep': 10,000 gallons of oil spills on LA streets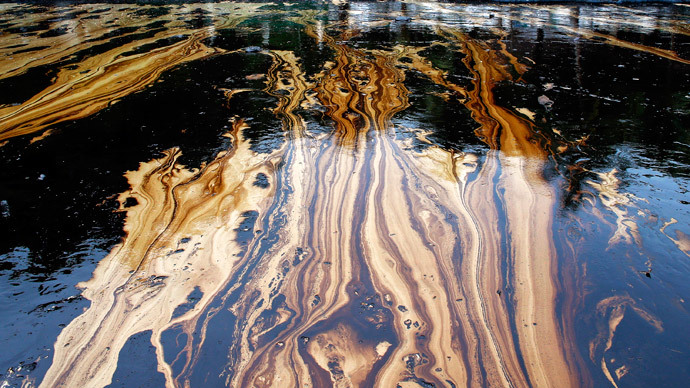 A ruptured oil pipe near the city of Glendale, Los Angeles County, has caused a massive leak as 10,000 gallons of crude oil spilled onto streets, which is knee high in some places, the Los Angeles Fire Department reports.
Earlier in the days much as 50,000 gallons had reportedly spilled onto the streets, but Captain Jamie Moore, a public information officer with the Los Angeles Fire Department (LAFD), later revised the figure.
The leak from a 20-inch pipe was first reported at around 12:15 am local time. The oil line was remotely shut off, the (LAFD) said in a press release. The oil spill has covered approximately a half-mile area, and is knee deep in some spots.
"We are on hand vacuuming up the spilled oil, mopping up what's left behind and pressure washing the area with a soap solution," Reuters cites Moore as saying. "The responders are mopping what's on the ground with absorbent diapers." The cleanup is expected to take 24 hours.
The leak, which was sprung near 5175 W. San Fernando Rd., has affected some commercial businesses. Four people at a nearby business were evacuated with respiratory complaints, and two people were transferred to a hospital, the Associated Press said, citing a fire official.
"Oil is knee-high in some areas," the fire department said in a statement. "A handful of commercial businesses are affected."
Crude oil runs down street uncontained heading towards more businesses in Atwater Village. pic.twitter.com/fObzwdrvlO

— Newsreel TV (@newsreeltv) May 15, 2014
Gushes of oil was seen spurting 20-feet into the air, cascading down on a nearby business - The Gentlemen's Club. The Gentleman's Club was evacuated, the LAFD says. Vehicles within the immediate vicinity of the club have also been impacted.
The oil line has been remotely shut off and no injuries have been reported, Local NBC 4 reports.
The incident shut down a section of the Atwater Village area of the city, and The Department of Transportation is assisting with traffic.
LA Battalion Chief David Spence told local television that the line ran from California's main oil-producing region near Bakersfield to a storage facility in Long Beach. It remains unclear if any of the refineries at the facility, including those run by Phillips 66, Valero and Tesoro would be affected by the disruption.
California saw its worst oil spill in 1969, when an estimated 80,000 to 100,000 barrels of crude spilled into the Santa Barbara Channel, off the coast of the city of Santa Barbara. It remains the third largest oil spill in the US and the biggest to have occurred in the waters off California.