Tech billionaire silent on decision to use armed guards to close California public beach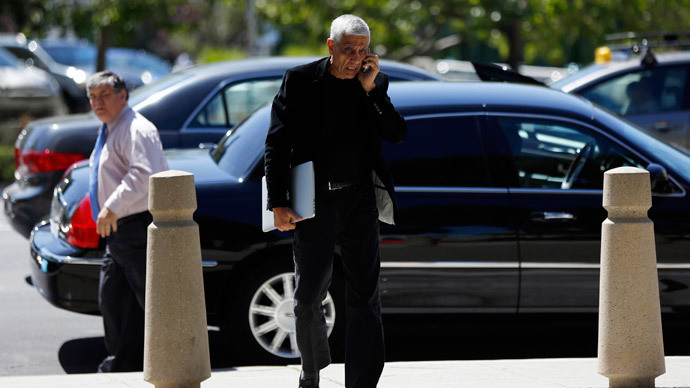 A billionaire who bought a popular beach only to close it off to the public finally spoke on the contentious issue on Monday, although his comments seem to have only generated more frustration among concerned Californians.
Vinod Khosla, a Silicon Valley entrepreneur who co-founded Sun Microsystems – a computing pioneer perhaps best known for developing the Java programming language – took the witness stand in a civil trial on Monday regarding his purchase of Martins Beach.
The civil suit was first filed in San Mateo County in March 2013 against the then-unidentified owner of the beach for painting over a billboard welcoming people to the seaside location, locking the gate, preventing entry, and hiring armed guards to keep the public out.
The beach had been open to the public for 100 years, acting as a popular swimming location for the duration of that time. It is located 35 miles south of San Francisco and was especially popular among surfers trying to ride waves that are hard to find elsewhere. Private ownership of California beaches has become an increasingly contentious issue as more billionaires have come out of Silicon Valley.
Environmentalists and community members have sought to reopen the beloved beach. The Surfrider Foundation, a grassroots organization concerned with ocean environmental and public access issues, filed suit against Khosla – who first tried to hide his ownership by buying the land through Martin's Beach LLC – under the California Coastal Act. They said Khosla's decision to paint over the billboard constituted new development, which requires a permit that Khosla does not have, according to the San Francisco Chronicle.
The public is still allowed access to the beach, but the only way to enjoy it is by entering via the ocean – a stipulation which the plaintiff says violates the Coastal Act.
"You can't just go down and buy a beach from the city and county of San Mateo and close the beach down," Joe Cotchett, who represents the Surfrider Foundation, told the local CBS affiliate. "We hope that the court, after a trial, will order Mr. Khosla to follow the law and apply for a permit to close down the beach."
Khosla had not spoken publicly on the matter since the purchase, until San Mateo Superior Court Judge Barbara Mallach ordered him to take the witness stand. But Khosla, dressed in a black shirt and jacket, refused to provide any insight into why he bought the beach or what he plans to do with it.
"If you're asking me why any gate is locked, it's to restrict public access," he said. "That's a general statement about gates."
Khosla simply smirked as he was peppered with questions by Cotchett regarding the last time he spoke to his property manager, whether he spoke with members of the public who told him about their concerns, and why he bought the land.
The defense team's strategy, according to Forbes magazine, is to have Khosla avoid any question that could implicate him in breaking laws protecting the beach. At one point on Monday, he was asked if he had read letters from local lawmakers attempting to inform him about the situation.
"I probably get 500 to 1,000 pages of documents like this a week," he said. "I cannot review them all. I'm not trying to be unreasonable, just telling you what my life is like."
Khosla himself implied on the stand that he is aware of the perception around the civil case.
"My intent was to determine what the law says on this issue," he said. "Not to have public opinion determine the issue, but facts of law."
That small acknowledgement was not enough to satisfy Cotchett, or the frustrated public. Khosa's testimony is expected to continue through much of the week.
"I think this man does not go to the potty without his attorney being there," Cotchett told the Chronicle after the proceedings wrapped up for the day. "There was an arrogance there that defies common sense...He couldn't remember a thing. I would never say he was lying. I would only say that his recollection is not good."
The battle is a microcosm of the larger tension between Silicon Valley billionaires and some members of the public. Facebook co-founder Sean Parker infamously spent $4.5 million on a lavish "Lord of the Rings" themed wedding at a time when many Facebook users were using their status updates to express worry about job security.
Then, months later, in December 2013, activists blocked three buses that were transporting Silicon Valley employees to their offices. One bus carrying Google workers had its windows shattered and tires slashed, with Oakland police telling reporters that they witnessed angry demonstrators throwing rocks at the vehicles.
Protesters were holding signs demanding affordable housing and commuter traffic that is no longer dominated by the 30 bus companies that make over 4,000 combined stops throughout California's Bay Area each day.
You can share this story on social media: