Fracking's unexpected side-effect: Traffic deaths on the rise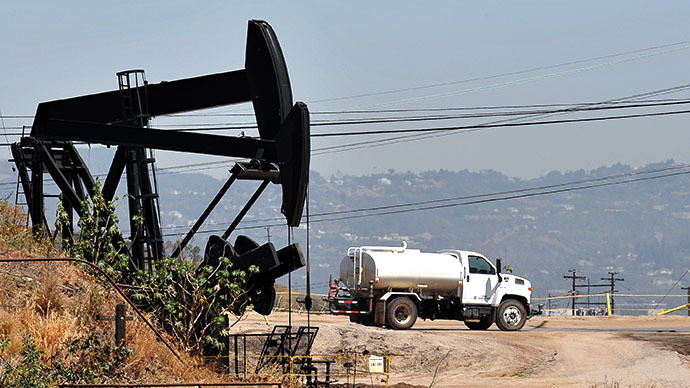 Fracking requires twice or three times as many truck trips per well as older oil and gas extraction techniques. That could be reason for drilling areas in US witnessing a significant spike in traffic fatalities, new analysis suggests.
The Associated Press has studied traffic death figures and US census data in six drilling states, and discovered that increased traffic fatalities is one side-effect of fracking, a controversial drilling technique, which means water, chemicals and sand are injected deep underground to break up rocks to free oil and natural gas there.

The report goes state by state, comparing fatal road accidents figures for the last several years in drilling counties to those in drilling-free parts of the states.

In West Virginia, for example, the most heavily drilled counties witnessed a rise of 42 percent in deadly crashes in 2013, while the rest of the state saw an 8 percent decline in traffic deaths.

Traffic deaths per 100,000 people are down by 20 percent in Texas, but not in the 21 drilling counties – where they have increased by 18 percent.

"We are just so swamped," said Sheriff Dwayne Villanueva of Karnes County, Texas, where there's been a surge in serious accidents. "I don't see it slowing down anytime soon."

The oil and gas industry acknowledges the problem. Deadly crashes are "recognized as one of the key risk areas of the business," according to Marvin Odum, who runs Royal Dutch Shell's exploration operations in the Americas.

It requires 2,300 to 4,000 truck trips per well to deliver mixtures of water, sand and chemicals to a drilling site. That's two or three times more than truck trips required for older techniques of oil and gas extraction.

Another factor contributing to more traffic deaths is that drilling activity develops faster than the road infrastructure. So increased truck flow moves along the roads that were meant for a much smaller number of cars.

Some also blame the situation on less stringent federal rules that apply to drivers of long trucks engaged in the oil and gas industry.

The analysis by AP adds up to a list of dangers associated with fracking. Environmentalists have long argued the practice leads to water pollution and may cause earthquakes.
You can share this story on social media: