​Goliath vs. Goliath: US court backs Monsanto against DuPont in Roundup patent war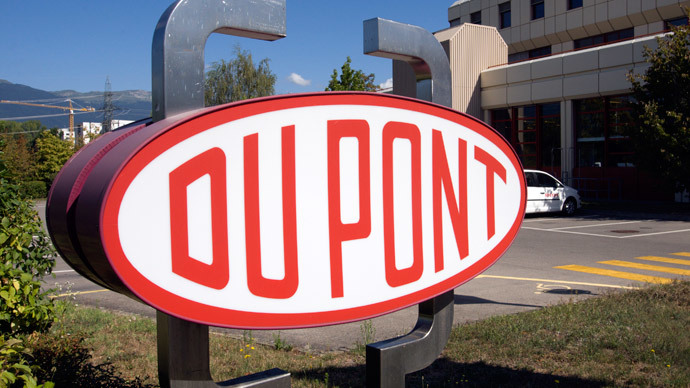 In the creation of its mass-distributed seed unit Pioneer, DuPont illegally employed technology developed by fellow agrochemical giant Monsanto, a US federal appeals court has ruled, affirming sanctions against DuPont.
The US Court of Appeals for the Federal Circuit let a lower court decision stand on Friday, agreeing that DuPont violated Monsanto's licensed seed technology, known as Roundup Ready, when it was developing its own seed to be tolerant of powerful, commonly-used herbicides.
Monsanto's Roundup Ready seeds are tailored to be able to withstand certain volumes of glyphosate-based herbicide, which Monsanto also makes. The companies are two of the top agribusiness titans competing for dominance through, among other products, so-called high-yield crops, most of which are genetically-modified organisms.
The appeals court agreed with a 2012 decision by the US District Court in St. Louis, finding that "DuPont had abused the judicial process and acted in bad faith," while adding that DuPont's actions were not considered "fraud on the court," Reuters reported.
The court's ruling upholds sanctions against DuPont, though Friday's ruling did not outline any specifics. Covering Monsanto's attorney fees are at least part of the deal, according to Reuters.
"We are disappointed in the decision reached by the Federal Circuit today in the now-concluded litigation with Monsanto," said DuPont spokesman Dan Turner. "It is important to note, however, that the appellate panel agreed with our long-standing position that we did not commit fraud on the court."
"The decision speaks for itself," said Monsanto spokesman Thomas Helscher in a brief comment about the ruling.
Following the 2012 district court decision, DuPont was order to pay Monsanto $1 billion in damages for violating a 2002 licensing agreement between the companies. The two agribusiness behemoths struck a deal, in which DuPont paid Monsanto $1.75 billion as part of a new licensing agreement that threw out the jury award from 2012.
The agreement allowed DuPont to appeal the sanctions, which led to Friday's decision.
Monsanto sued DuPont in May 2009, claiming DuPont used its Roundup Ready seed trait without licensing permission. It claimed DuPont, while developing Pioneer, broke the agreement when it attempted to build on a patent owned by Monsanto.
DuPont says Monsanto fraudulently obtained the patent, leaving it invalid. Dupont also defending itself by asserting that it did not understand it could not "stack" its own seed trait on that of Monsanto's Roundup Ready trait.
Yet emails revealed in the case showed DuPont lawyers advised the company that the licensing pact did not allow for the use of Monsanto's technology. For the misrepresentation, Monsanto demanded the court apply the sanctions against DuPont.
Monsanto's Roundup Ready seed technology was introduced in 1996 to withstand dousing of its glyphosate herbicide, Roundup.
Sales for the top four agrochemical and biotech corporations – Monsanto, DuPont, Dow Chemical, and Syngenta – have gone up from $60.1 billion in 2004 to $119.3 billion in 2012.
Dow is currently pushing for US government approval of its own potent – and quite controversial – herbicide to protect its own seeds.
The US Environmental Protection Agency is considering a proposal for mass use of Dow's herbicide 2,4-D on the company's genetically-engineered corn and soybeans, dubbed by critics as 'Agent Orange' crops for their relation to the potent chemical best known for killing hundreds of thousands of people during the US war in Vietnam. Dow's GE crops were developed to withstand several herbicides, including 2,4-D and Roundup.