​Monsanto's Roundup may be linked to fatal kidney disease, new study suggests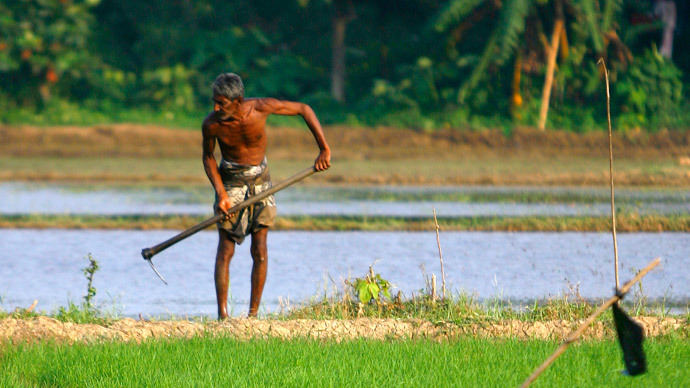 A heretofore inexplicable fatal, chronic kidney disease that has affected poor farming regions around the globe may be linked to the use of biochemical giant Monsanto's Roundup herbicide in areas with hard water, a new study has found.
The new study was published in the International Journal of Environmental Research and Public Health.
Researchers suggest that Roundup, or glyphosate, becomes highly toxic to the kidney once mixed with "hard" water or metals like arsenic and cadmium that often exist naturally in the soil or are added via fertilizer. Hard water contains metals like calcium, magnesium, strontium, and iron, among others. On its own, glyphosate is toxic, but not detrimental enough to eradicate kidney tissue.
The glyphosate molecule was patented as a herbicide by Monsanto in the early 1970s. The company soon brought glyphosate to market under the name "Roundup," which is now the most commonly used herbicide in the world.
The hypothesis helps explain a global rash of the mysterious, fatal Chronic Kidney Disease of Unknown etiology (CKDu) that has been found in rice paddy regions of northern Sri Lanka, for example, or in El Salvador, where CKDu is the second leading cause of death among males.
Furthermore, the study's findings explain many observations associated with the disease, including the linkage between the consumption of hard water and CKDu, as 96 percent of patients have been found to have consumed "hard or very hard water for at least five years, from wells that receive their supply from shallow regolith aquifers."
The CKDu was discovered in rice paddy farms in northern Sri Lanka around 20 years ago. The condition has spread quickly since then and now affects 15 percent of working age people in the region, or a total of 400,000 patients, the study says. At least 20,000 have died from CKDu there.
In 2009, the Sri Lankan Ministry of Health introduced criteria for CKDu. Basically, the Ministry found that CKDu did not share common risk factors as chronic kidney disease, such as diabetes, high blood pressure and glomerular nephritis, or inflammation of the kidney.
Based on geographical and socioeconomical factors associated with CKDu, it was assumed that environmental and occupational variables would offer clues to the disease's origins – or in this case, it came from chemicals.
The new study noted that even the World Health Organization had found that CKDu is caused by exposure to arsenic, cadmium, and pesticides, in addition to hard water consumption, low water intake, and exposure to high temperatures. Yet why that certain area of Sri Lanka and why the disease didn't show prior to the mid-1990s was left unanswered.
Researchers point out that political changes in Sri Lanka in the late 1970s led to the introduction of agrochemicals, especially in rice farming. They believe that 12 to 15 years of exposure to "low concentration kidney-damaging compounds" along with their accumulation in the body led to the appearance of CKDu in the mid-90s.
The incriminating agent, or Compound "X," must have certain characteristics, researchers deduced. The compound, they hypothesized, must be: made of chemicals newly introduced in the last 20 to 30 years; capable of forming stable complexes with hard water; capable of retaining nephrotoxic metals and delivering them to the kidney; capable of multiple routes of exposure, such as ingestion, through skin or respiratory absorption, among other criteria.
These factors pointed to glyphosate, used in abundance in Sri Lanka. In the study, researchers noted that earlier studies had shown that typical glyphosate half-life of around 47 days in soil can increase up to 22 years after forming hard to biodegrade "strong complexes with metal ions."
Scientists have derived three ways of exposure to glyphosate-metal complexes (GMCs): consumption of contaminated hard water, food, or the complex could be formed directly within circulation with glyphosate coming from dermal/respiratory route and metals from water and foods.
Rice farmers, for example, are at high risk of exposure to GMCs through skin absorption, inhalation, or tainted drinking water. GMCs seem to evade the normal liver's detoxification process, thus damaging kidneys, the study found.
The study also suggests that glyphosate could be linked to similar epidemics of kidney disease of unknown origin in El Salvador, Nicaragua, Costa Rica, and India.
Recent investigations by the Center for Public Integrity found that, in the last five years, CKDu is responsible for more deaths in El Salvador and Nicaragua than diabetes, AIDS, and leukemia combined.
You can share this story on social media: