Feds reject California IDs for illegal immigrants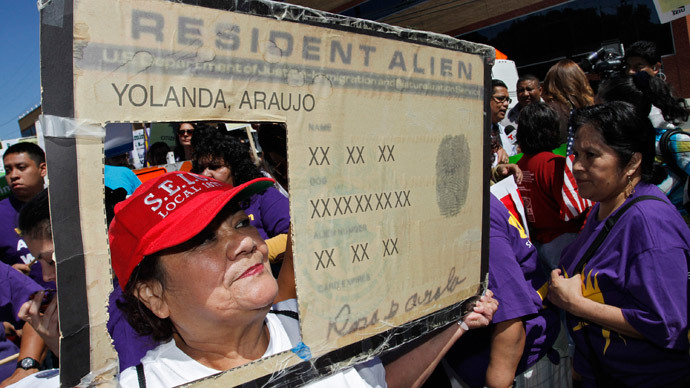 As California prepares to hand out drivers' licenses to illegal immigrants with permission to stay in the United States, the state suffered a setback recently when the federal government rejected its latest design.
The debate revolves around making the licenses unique enough to be distinguished from regular drivers' licenses while, at the same time, ensuring they're not so different that cardholders would suffer from discrimination for using one.
According to the Los Angeles Times, the license intended for illegal immigrants is very similar to the one handed out to California citizens, with only a small mark on the front differentiating it. On the back of the card in small print, there is text that reads, "This card is not acceptable for official federal purposes."
To the Department of Homeland Security, that is not enough. Officials rejected the design earlier this week, stating they want the disclaimer on the front of the card – as in other states which offer similar licenses. The agency also said it wants the card to feature a color or design that is noticeably different.
Speaking with Reuters, groups in support of California's current design railed against the DHS' decision.
"We are strongly rejecting the attempts by the Department of Homeland Security to strongarm the state of California into accepting what we see as unnecessary requirements," said Arturo Carmona, a spokesman for immigrant advocacy group Presente.org.
Lawmakers in California and the state's Latino Caucus also criticized the rejection, arguing that implementing the design preferred by DHS would lead to the profiling of undocumented immigrants.
"Covering the fronts of licenses with this information that Homeland Security is demanding would subject the holders to unnecessary discrimination and possible harassment," state Sen. Kevin De Leon (D-Los Angeles) said to the LA Times.
In a letter to Homeland Security Secretary Jeh Johnson, Sen. Ricardo Lara (D-Bell Gardens) and Assemblyman Luis Alejo (D-Watsonville) noted, "immigrants are statistically more likely to be the victims of crime and are often primary targets for scams, discrimination, retaliation and extortion in encounters with a diverse set of unscrupulous actors."
As a result, the lawmakers claimed the state intends to design a license that would protect immigrants from such behavior. Lara and Alejo also stated that by allowing the design to move forward, the agency would be "confirming that DHS will not exploit the program for immigration enforcement purposes."
Although the decision is being criticized, the California Department of Motor Vehicles said it will be re-examining its design.
"The DMV will continue to work vigorously with lawmakers, affected communities and federal officials to design a license that complies with federal law and allows over a million undocumented California residents to drive legally and safely on state roads," spokesman Armando Botello said in a statement to the Times.
As noted by Reuters, 10 states that have currently passed laws permitting drivers' licenses for illegal immigrants. In North Carolina, officials designed a license with a pink stripe running through to differentiate it from regularly issued cards. In Alabama, meanwhile, licenses sare branded with the letters "FN," which stand for Foreign National. These designs, too, have been criticized by immigration groups claiming they will provoke unfair treatment.
Despite the setback in California, Botello said the plan to issue licenses next year remains on schedule.
"We're still working on hiring an additional 1,000 people and opening four temporary offices," Botello told Reuters. "We're still hopeful that we can meet that deadline."