Soy sauce molecules effectively fight HIV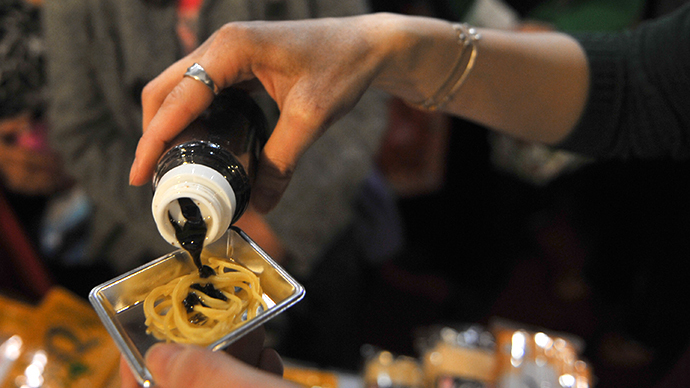 More than a decade after a Japanese soy sauce manufacturer said it had discovered a molecule in its sauce that could be used to fight HIV, the findings have been confirmed by university scientists.
According to a team of virologists at the University of Missouri, a flavor-enhancing molecule found in soy sauce – called EFdA – is up to 70 times more powerful than typical drugs like Tenofovir, which is often used as a first line of defense before the disease builds up a resistance.
"Patients who are treated for HIV infections with Tenofovir, eventually develop resistance to the drugs that prevent an effective or successful defense against the virus," said Stefan Sarafianos, associate professor of molecular microbiology and immunology in the University of Missouri School of Medicine, and a virologist at the Bond Life Sciences Center.
"EFdA, the molecule we are studying, is less likely to cause resistance in HIV patients because it is more readily activated and is less quickly broken down by the body as similar existing drugs."
The discovery of the powerful molecule dates back to 1998, when Japanese soy sauce company Yamasa established a division of food scientists with the intention of studying how the body's immune system reacted to the chemicals contained in food. According to Vocativ, the company discovered the potential of EFdA in 2001, when it noticed the make-up of the molecule bore a striking resemblance to existing HIV drugs on the market.
Thirteen years later, that research has been verified. When it comes to individuals whose bodies haven't developed a resistance to Tenofovir, the soy sauce molecule is 10 times more effective.
"Not only does EFdA work on resistant HIV, it works better on HIV that has not become Tenofovir resistant," Sarafianos said.
According to the University of Missouri's science blog, EFdA's effectiveness was also proven in monkeys by Sarafianos and other researchers like Michael Parniak of the University of Pittsburgh and the National Institutes of Health's Hiroaki Mitsuya. In 2012, the three researchers showed that even in animals nearing death, EFdA allowed for rapid and impressive recovery.
"These animals were so lethargic, so ill, that they were scheduled to be euthanized when EFdA was administered," Parniak told the blog. "Within a month they were bouncing around in their cages, looking very happy and their virus load dropped to undetectable levels. That shows you the activity of the molecule; it's so active that resistance doesn't come in as much of a factor with it."
Moving forward, the researchers hope to apply EFdA most effectively in preventative measures, which the team sees as the best way to halt the spread of the disease. Continued research into the molecule could lead to other breakthroughs and even better ways to battle HIV.
"We want to understand how long EFdA stays in the bloodstream and cells," Parniak said. "If we understand structurally why this drug is so potent it allows us to maybe develop additional molecules equally potent and a combination of those molecules could be a blockbuster."
You can share this story on social media: