Toronto crack-smoking mayor Rob Ford missing after flying to US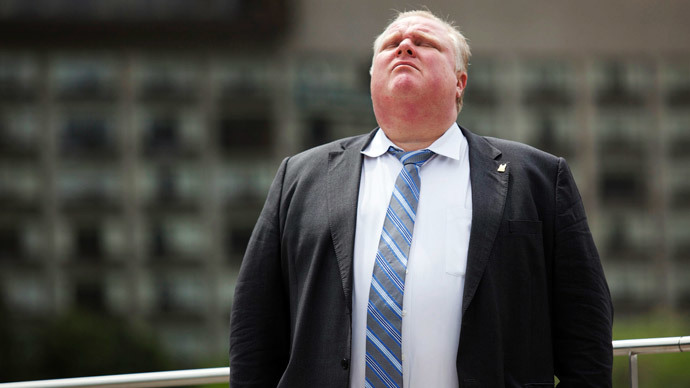 Toronto, Ontario Mayor Rob Ford has seemingly vanished after a trip to the United States last week supposedly intended to check the embattled city leader into a rehab center was aborted at a Chicago, Illinois airport.
Ford, 44, reportedly flew in a private jet to the Windy City last week after departing a Canada airport following the release of yet more images purported to show him smoking crack. On the heels of a handful of other similar incidents during the last year, Ford's office said he'd be taking a leave of absence in order to pursue rehab.
After landing in Chicago, however, Ford reportedly withdrew his request to enter the United States.
"He voluntarily withdrew his application to enter the USA," Roy Norton, the consul general of Canada in Chicago, told the Globe and Mail newspaper last week.
Rob Ford "was not denied entry, per se," Norton added.
As far as where the mayor of Toronto is, however, is anyone's guess: this week those close to him have said with absolute certainty that Mr. Ford is indeed at a rehab facility, but the mayor's actual whereabouts have yet to be disclosed since he departed via plane last week.
"The mayor is 100 percent in rehab. I can assure you of that," his lawyer, Dennis Morris, told CBC on Tuesday this week. Last Friday, Morris said of the facility's location nothing more than: "'I think it is close to Timbuktu."
"Yes, for the one-millionth time, Rob Ford is in a rehabilitation program," the mayor's brother, Councilor Rob Ford, also told reporters on Tuesday.
When asked at Toronto City Hall that same day for more details, Councilor Ford said, "it's no one's business but his own," the city's Sun newspaper reported.
But according to the Toronto Sun's sources, Mayor Ford may have secretly checked into a rehab facility in the nearby town of Guelph, Ontario where he is allowed only one phone call a day and stripped of his access to outside news.
"Due to confidentiality to not only the mayor but to the people in the rehab program, I'm not at liberty to say" Councilor Ford added to the Toronto Star of his brother's whereabouts. "He's in a rehab facility, 100 percent, and he's getting the support that he needs."
"He's progressing, he's doing well, he's into the program," added the councilor. "He tells me he's going to come back a few pounds lighter so that's good."
Other city officials, however, say the mayor should make his whereabouts clear.
"The mayor should explain where he's going to be and how long he anticipates being there," Councilor Giorgio Mammoliti told the National Post. "I think everybody will leave him alone if he does that."
"Right now nobody in this city believes him and trusts him on any of this. If a plane landed and he didn't get off, he better tell this city where he is going for treatment," added Mammoliti.
On his part, the mayor's attorney said people just need to take his word for it with regards to what Mr. Ford is up to right now.
"The bottom line is he's in rehab, he's getting rehab and he'll be there for a number of weeks – and that's the answer. It's not like he's at a baseball game in Los Angeles or something," Morris told the Globe and Mail this week.
Meanwhile, the reason behind why the mayor's trek to Chicago was cut so short has yet to be explained in full.
"Most likely what happened was the immigration officer at the border may have warned him that he would likely be denied entry, so he was allowed to withdraw," Toronto immigration lawyer Michael Niren told CBC News on Tuesday. "Meaning he decided he's not going to make a formal entry to avoid the risk of being formally refused."
Tuesday's meeting at Toronto City Hall was the first one since Mayor Ford left town last week after a series of drug- and alcohol-related mishaps made him the subject of international ridicule.
"It's not easy to be vulnerable and this is one of the most difficult times in my life," Ford said in a statement last Wednesday ahead of his unexpected departure. "I have a problem with alcohol, and the choices I have made while under the influence. I have struggled with this for some time."
Ford said earlier this year that he will run for re-election in October 2014, but is for now taking a break to get help, his office said.
You can share this story on social media: