New details revealed in scandal surrounding massive meat recall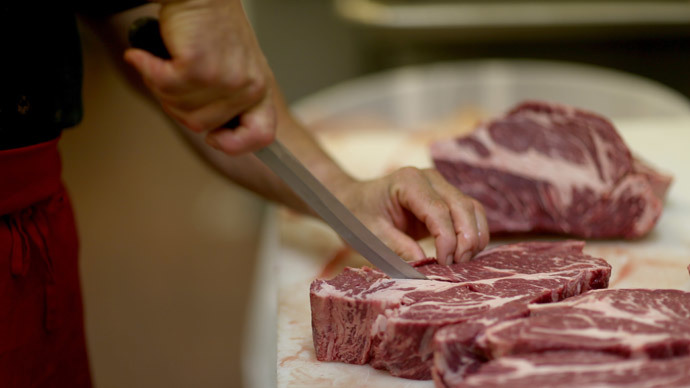 New details have emerged concerning a northern California slaughterhouse scandal that earlier this year prompted the United States Department of Agriculture to recall roughly 9 million pounds of meat.
Petaluma, CA's Rancho Feeding Corporation made headlines back in February after the USDA began to recall around 8.7 million pounds of tainted beef carcasses, oxtail, liver, cheeks, tripe, tongue, veal bones and other exports that were shipped from the California slaughterhouse between January 1, 2013 and the second week of this year.
After investigating the goods, the USDA eventually blamed Rancho for shipping meat that was "unfit for human food," later linked to have come from cancerous cows that were chopped and sold for beef with seemingly zero regard from Rancho's staff. Earlier this month, documents obtained by CNN lead the news network to believe that Rancho was buying diseased dairy cows and simply processing them at times when government inspectors weren't on site.
At the same time, though, those documents also now suggest that an unnamed Rancho Feeding Corporation foreman had a personal relationship with the USDA inspector whose job involved making sure that the company's products were fit for consumption.
Previously unpublished emails, CNN reported, show that USDA inspector Lynnette Thompson was intimate a number of times with the foreman, further demonstrating yet more disturbing information about a slaughterhouse in disarray.
According to CNN, an assistant Rancho plant manager sent emails to higher ups at the USDA last December letting them know about the relationship between Thompson and the plant foreman.
"He said he went to her trailer three different times and they were intimate," the assistant manager wrote the regulators. "She also sent him a picture of her naked back side in a tanning salon to his cell phone."
Elsewhere, the employee told the USDA that the two exchanged a number of suspicious text messages, including one where Thompson wrote the foreman, "I need a kiss."
"Me to [sic]," the man reportedly responded.
In another, Thompson pleaded, "Play dumb please 4 my kids delete every thing k (sic)."
"Thompson had reason to worry," CNN investigative correspondents Chris Frates and Shannon Travis wrote last week. "The USDA's own ethics manual says its employees should not be assigned to an establishment where 'they are engaged in a personal relationship with an establishment employee.'"
Now as investigators stay focused on the Rancho scandal, new questions are being raised about whether the FDA inspector's inappropriate relationship with the factory foreman may have played a role in the major recall. A former owner, however, told CNN through an attorney that the relationship between the two was in no way connected to the recall.
Previously, the USDA admitted in the midst of their investigation that issues pertaining to the inspection procedure had been discovered while probing Rancho Feeding.
"The ongoing investigation is associated with the company's intermittent circumvention of inspection requirements," a spokesperson told a San Francisco-based CBS affiliate in February.
Speaking to CNN, United States Rep. Jared Huffman (D-California) said he's concerned the USDA is hiding even more egregious behavior.
"One would speculate at this point that in order for there [to] have been a deception that allowed a whole bunch of improperly processed meat to get certified for sale, someone at USDA was deceived," Huffman said. "Something must have broken down in their process too. So, in the absence of information, I am left to believe that maybe they're a little concerned that they dropped the ball, too."