Suspected shooter at Dayton VA medical complex arrested four miles away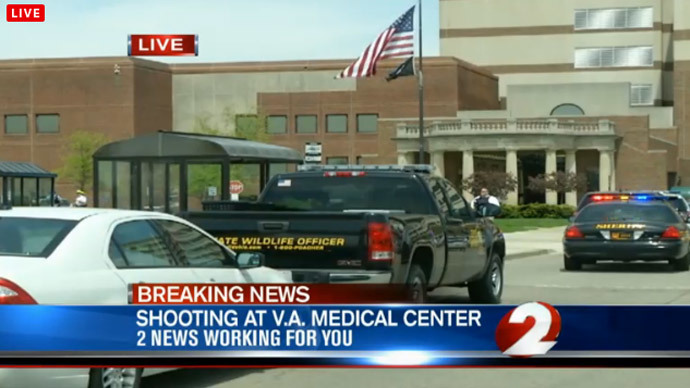 A suspected gunman is in custody on Monday after police say he opened fire and injured one man at a Department of Veterans Affairs medical complex in Dayton, Ohio. The gunman, 59-year-old Neil Moore, is a retired employee of the VA hospital.
At approximately noon local time, witnesses heard gunfire in the basement of the facility, authorities said at a press conference. The VA campus, which has at least ten buildings, was immediately placed on lockdown. Regional dispatch received a call for an active shooter situation at 12:10 p.m.
Moore, who had worked in the hospital's housekeeping department, entered the building and proceeded to a break room in the basement of the VA Medical Center, the main hospital on the VA campus, Dayton Police Chief Richard Biehle said. There, he struggled with Paul Burnside, a 61-year-old employee. Burnside was shot in the ankle during the struggle. Police don't know if the shooter and victim knew each other.
"It is likely that he came with some intentionality to be involved in a shooting," Biehle said. "But we need more time to determine that with certainty."
At 12:40 p.m., Moore was arrested at Dayton's Good Samaritan Hospital, over four miles away from the scene of the shooting. He had requested psychiatric services there, Biehle said. It is unknown how Moore was able to leave campus or make his way to Good Samaritan, or how police made the connection with the man requesting mental health assistance with the shooting at the VA.
Civilians being evacuated to parking lot. Far west end off Liscum Drive. #daytonva#breaking#shootingpic.twitter.com/EvsbSdSMPA

— Nicole Grigg (@NicoleG2245) May 5, 2014
Upon arriving at the hospital, police began a floor-by-floor, room-by-room search for any additional suspects or victims, Biehle said. Police now believe Moore was acting alone and that there are no additional victims. Authorities on scene are conducting a second sweep of the building, checking rooms that were locked or may have been missed during the initial search.
Nicole Grigg, a reporter for ABC 22/Fox 45 in Dayton, tweeted from the scene that police believed the suspect may be carrying a revolver. Another witness told WDTN moments later that no fewer than 30-40 police officers had swarmed one of the VA buildings, and that law enforcement personnel from several other agencies, including the FBI and a SWAT team, were on site.
Received this video from my Dad whose a employee at the VA hospital in Dayton. #DaytonVA@whiotv@FoxNewshttps://t.co/Fxiyd3KamE

— Matt Kick (@MatthewKick) May 5, 2014
"It was a routine day, a typical Monday at the VA doing patient care, taking care of our nation's heroes," VA Medical Center CEO Glen Costie said during the press conference, noting there were no special events scheduled. Costie praised employee's reactions to the situation, and announced the VA would provide mental health counselors for employees and veterans after the situation.
After he was arrested by Good Samaritan's security staff, Moore was brought downtown to the Dayton police headquarters, authorities said. Moore was wearing a letterman-style jacket with "Marines" written on the back, as well as a US Marine Corps T-shirt.
NEW PHOTO: Dayton VA Shooting Suspect http://t.co/ayObzDMvzepic.twitter.com/hmNRSl0jHB

— Breaking911 (@Breaking911) May 5, 2014
A gun was found in the suspect's vehicle, but law enforcement has not yet removed from the vehicle, FBI Supervisory Special Agent Tim Ferguson of the Dayton office said at the press conference. The FBI is waiting to receive a search warrant to search the car. The bureau has taken the lead on the case, and will likely contact the US attorney's office to file federal charges in the case.
Four years ago last month, a 27-year-old Army veteran, Jesse Huff, committed suicide outside of the VA Medical Center by shooting himself in the head.