Pentagon spy agency could soon welcome first female chief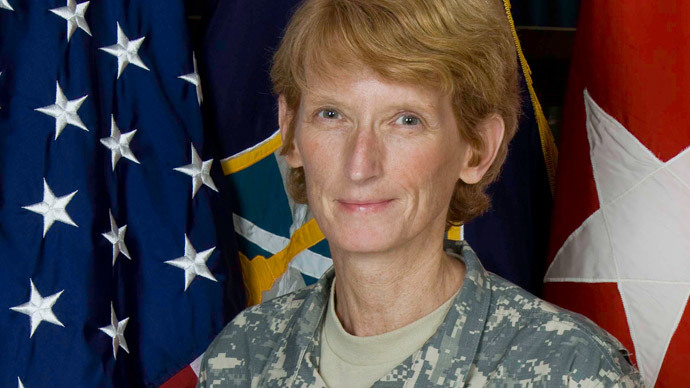 Lt. Gen. Mary Legere, currently the Deputy Chief of Staff for Intelligence in the US Army, could be poised to make history. She is the leading candidate to take over as chief of the Pentagon's main spy organization, the Defense Intelligence Agency (DIA).
If Legere is nominated and confirmed, she would become the first female head of the DIA, and thus would "become one of the most powerful women in both the intelligence community and the US military,"Foreign Policy reported. "It would also leave her poised to one day ascend to an even more prestigious post."
Foreign Policy believes the prestigious post would make her a "natural candidate" to eventually become the head of the National Security Agency, saying her resume is "practically a carbon copy of the agency's previous chief, Gen. Keith Alexander – and there's precedent for a DIA director finishing up his military career with a final turn at the NSA."
But first Legere needs to be confirmed by Congress – and that's not a sure bet. Even without an official nomination, there is opposition to her candidacy.
Rep. Duncan Hunter (R-Calif.), a former Marine, sent a letter to Defense Secretary Chuck Hagel and Director of National Intelligence James Clapper voicing "significant concerns" about Legere's potential selection.
"It is my belief that Lt. Gen. Legere...holds principal responsibility for failing to deliver urgent capabilities to the warfighter and overseeing initiatives that have repeatedly failed to meet budget and schedule requirements," Hunter wrote, referring to the Army's Distributed Common Ground System program, which would provide Army-developed cloud capability to troops. He is also opposing the selection of Maj. Gen Stephen Fogarty, commanding general of US Army Intelligence, for the same position, the Blaze reported.
"In order to prevent even more costly failures in the future, the Administration must hold leaders accountable. When it comes to the safety of our men and women in uniform, we must never reward failure with promotion," Hunter continued. "Accordingly, I believe Lt. Gen. Legere and Maj. Gen. Fogarty should not be considered for higher levels of responsibility."
Legere's career began as a member of the Army ROTC program at the University of New Hampshire. After she graduated in 1982, she became a platoon leader with a military intelligence battalion, according to Foreign Policy. She served in intelligence posts in Germany and South Korea, as well as multiple tours at the Pentagon. She also served as a senior intelligence leader in Iraq in 2008.
"She's a visionary leader, not only great at being an intelligence officer but also focused on how to efficiently manager manpower and resources," Terry Roberts, a former deputy director of naval intelligence who served in South Korea with Legere, told Foreign Policy.
The position will open in the fall. Both the current DIA director, Lt. Gen. Michael T. Flynn, and deputy director David Shedd announced Wednesday in a joint statement that they would step down from their respective positions.