Federal judge orders FBI to reveal name of informants
Published time: 2 May, 2014 21:16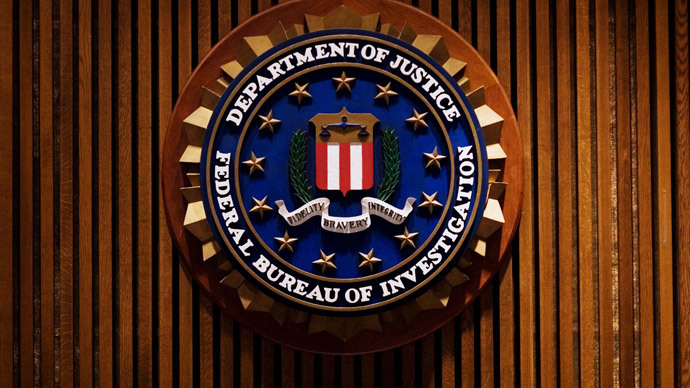 A District Court judge in Washington, DC has ordered the Federal Bureau of Information to release documents likely to reveal the identity of two confidential informants.
Since 2012, photojournalist Laura Sennett has been attempting to get her hands on any and all documents the FBI has collected on her ahead of an armed raid they conducted at her Arlington, Virginia home four years earlier.
On April 12, 2008, Sennett attended a late night demonstration at a Washington, DC hotel orchestrated by International Monetary Fund protesters who hoped to wake up guests — namely those who had booked rooms to attend a major IMF meeting.
According to court documents, Sennett heard about the event from another activist and decided to show up to take photographs from outside the hotel. Courthouse News Service, who posted a copy of this week's District Court ruling, reported that the photographer has previously had her work featured on CNN and the History Channel.
Nevertheless, the FBI's terrorism division soon opened up an investigation into the hotel rally after management said the protesters damaged a $200,000 statue, among other items. Two confidential sources eventually recognized Sennett — a photographer who has shot similar protests before — and the feds stormed her home several months later, collecting computers, cameras and electronics and waking her children at gunpoint.
Freedom of Information Act requests filed by Sennett in the aftermath have attempted to uncover whatever dirt the FBI had on her ahead of that raid, and the feds have been all but forthcoming since 2012. According to this week's court memorandum, the FBI has maintained that a certain excerpt of their Sennett dossier could not be disclosed because it would unveil the name of their IMF rally informants.
"All that remains," Judge James Boasberg wrote for the US District Court in Washington, DC, "is Plaintiff's assault on Defendant's decision to withhold a total of three paragraphs, spanning four pages, under Exemption 7(D)" of the Freedom of Information Act, or FOIA.
According to the court, the FBI's attempts to justify keeping those paragraphs redacted wasn't sufficient. In fact, Boasberg wrote, the FBI's informants appeared to not even be all that credible.
Sennett had asked the court to force the FBI to release the information, to which the bureau again fought back. After pleading their case one more time, Boasberg wrote that the "Defendant has now returned, new-and-improved declaration in hand, again asking for summary judgment," but "Although that updated statement is somewhat helpful, it is far from enough."
The documents sought by the photographer, the judge wrote, suggest the FBI relied on confidential sources who had only seen Sennett years before at a 2008 protest.
"[A]s best the Court can tell," he wrote, "this source was only tangentially related to some people who may – at some point after his or her contact with them – have committed a crime."
"He or she had done nothing more than attend one planning meeting for a protest some time prior to 2008, and the redacted description of the confidential information, which the Court has reviewed in camera, is fairly generic," he added.
Former Department of Justice Office of Information and Privacy director Dan Metcalfe told The Guardian on Friday that Boasberg's decision is "extremely rare" and that there has only been "a handful of cases at most in which the FBI has had to disclose potentially identifying information about a confidential source over the past 40 years."
"I've read thousands and thousands of FOIA opinions," he said. "I would put this in the top percentile for being analytically sound and written exceptionally well. Based upon the facts that one gleans from reading the opinion, this is an entirely correct outcome. I see little or no prospect for reversal on appeal."