Germany not satisfied with US assurances over NSA spying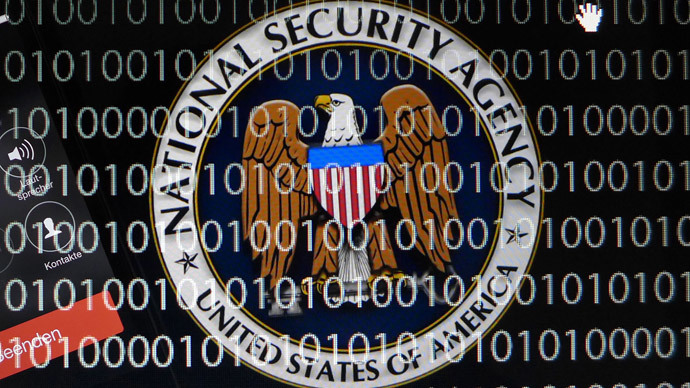 The chancellor of Germany spoke alongside United States President Barack Obama on Friday about the National Security Agency's surveillance practices for the first time in the US since she voiced concerns last year about leaked NSA operations.
A joint news conference Friday afternoon at the White House Rose Garden in downtown Washington, DC between the two primarily concerned the escalating situation in Ukraine, but both Pres. Obama and Chancellor Angela Merkel also discussed the NSA in the wake of disclosures that last year propelled the secretive American spy agency into the international spotlight.
Although Merkel has adamantly spoken out against the NSA's surveillance practices in the months since those disclosures first surfaced last June, Friday's meeting at the president's home marked her first visit to the White House since.
After both Obama and Merkel made prepared remarks at the Rose Garden about the Ukrainian crisis, the American president took a moment to put aside queries from the press and instead bring it upon himself to address the tensions between America and Germany that have worsened as a result of the NSA leaks.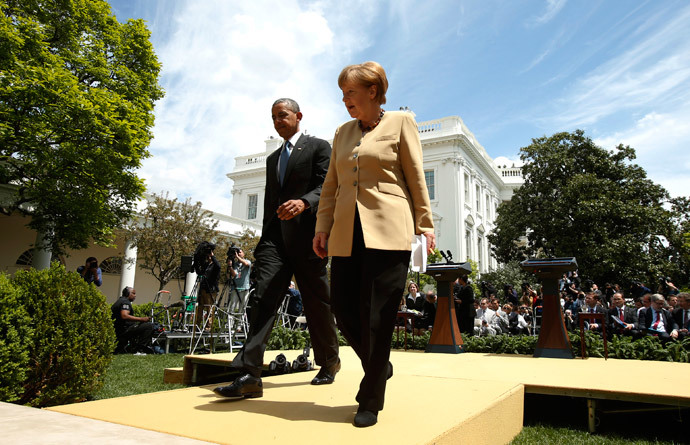 In the months since former intelligence contractor Edward Snowden disclosed those previously secret documents to the media, the NSA's practices have attracted criticism from all corners of the globe. On her part, however, Merkel made considerable waves after raising questions about the NSA's alleged spying on foreign leaders, including herself. Before long, the US intelligence community was linked to conducting surveillance on numerous officials atop the governments of allied nations, and other countries quickly condemned America's behavior as well.
"Germany is one of our closest allies and our closest friends, and that is true across the spectrum of issue — security, intelligence, economic, diplomatic — and Angela Merkel is one of my closest friends on the world stage and somebody whose partnership I deeply value," Obama said. "And so it has pained me to see that degree to which the Snowden disclosures have created strains in the relationship," the president added.
Last October, a spokesperson for Merkel said she told the president that being targeted by US surveillance was "completely unacceptable" and represented a "grave breach of trust."
"Under the present conditions," Merkel said Friday, Germany and the US have "differences of opinions to overcome."
To do as much, Merkel said, both parties should enter in a "cyber dialogue" or sorts in order to have a forum for a longer discussion on the matter. Snowden's revelations have provoked the US to already consider some reforms both internationally and domestically, but Merkel said allied partners of the US should have a say as well.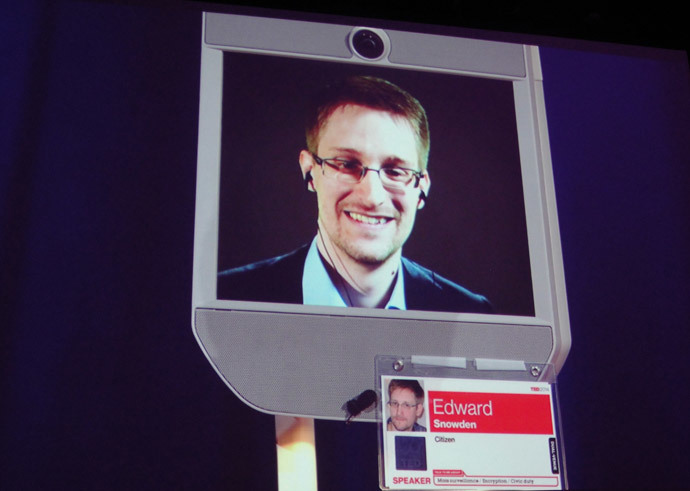 "I've also been convinced for a very long time that it is important for our legal structures and our policy structures to catch up with rapidly advancing technologies," Obama said later, "and as a consequences, through a series of steps, what we tried to do is reform what we do and have taken these issues very seriously."
The president further celebrated his administration's attempts during the last few months to reign in the NSA to a degree, assuring Chancellor Merkel in particular that he's been pursuing changes she'd likely approve of.
"Domestically, we tried to provide additional assurances to the American people that their privacy is protected. But what I've also done is taken the unprecedented step of ordering our intelligence community to take the privacy interests of non US persons into account in everything that they do — something that has not been done before and something that most other countries in the world do not do."
Merkel, however, did not immediately accept the president's assurances as other allies have in the past after being with apologies from the Obama administration. While the German chancellor acknowledged on Friday that she still has her concerns surrounding the NSA, for instance, French President François Hollande said after his meeting with Obama in February that "Mutual trust has been restored."
Meanwhile, Pres. Obama also said during the presser that the NSA's actual abilities have been inflated.
"I know that the perception among the public sometimes is that the US has capacities similar to what you see in movies and on television," he added. "The truth of the matter is that our focus is principally and primarily on how do we make sure that terrorists, those who want to proliferate weapons, transnational criminals, are not able to engage in the activities that they engage in."
Obama went on to say that while the US won't succeed in reaching these goals on its own, his administration is committed to a US-German cyber dialogue as proposed by the chancellor in order "to close further the gaps that may exist in terms of how we operate, how German intelligence operates, to make sure there is transparency and clarity and what we are doing and what our goals and intentions are."
"These are complicated issues and we are not perfectly aligned yet, but we share the same values and we share the same concerns, and this is something that is deeply important to me," he said.
You can share this story on social media: