American military gets access to upwards of five Filipino bases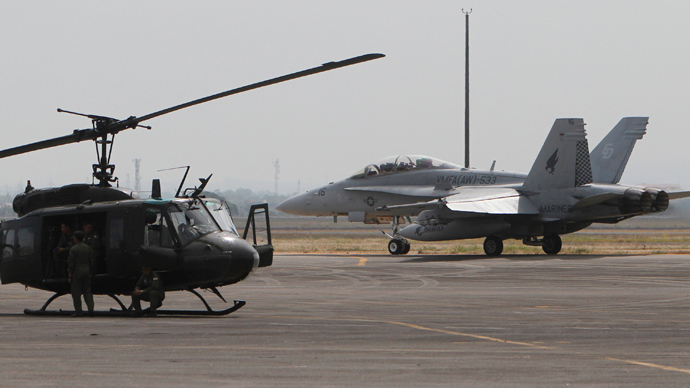 United States troops will soon have access to upwards of five military bases across the Philippines as the result of an agreement signed earlier this week between nations, the Asian country's chief negotiator told reporters on Friday.
The pact — the Enhanced Defense Cooperation Agreement, or EDCA — was signed on Monday this week ahead of US President Barack Obama's stop in the Filipino capital of Manila amidst a brief tour of Asia, and was touted then by the American commander-in-chief as an effort "to make sure international rules and norms are respected," particularly in an area that's become the scene of international disputes as of late.
As RT reported at the time, officials were unsure at first what facilities would be opened up to the US as part of the agreement. Only now, however, officials for the island nation say the arrangement will ensure that American troops will be able to access at least three local bases during the next decade, including one that Filipino officials say is "ideal."
"Right now, the discussions would be ranging from three to five Armed Forces of the Philippines (AFP) bases," Pio Lorenzo Batino, a defense undersecretary and head of the negotiating panel, told attendees at a news conference on Friday this week, according to Reuters. "That's not final."
The agreement — reached between parties as regional superpower China flexes its military might in the vicinity — will allow the Pentagon to rotate aircraft, ships, equipment and troops in and out of those bases during the next decade. Both the US and Philippines have insisted, however, that the pact is not meant to be seen as an act of aggression towards the Chinese.
"Our goal is not to counter China. Our goal is not to contain China," Obama said earlier this week.
The agreement, Philippine President Benigno Aquino III added then, "takes our security cooperation to a higher level of engagement, reaffirms our countries' commitment to mutual defense and security and promotes regional peace and stability."
Batino added on Friday this week that a facility that has already been the site of joint exercises between parties, Fort Magsaysay in Nueva Ecija, has been recommended to become one of the five bases. The Philippine's Rappler.com news site was quick to acknowledge that Nueve Ecija is just a stone's throw from the disputed Panatag Shoal (Panatag) in the West Philippine Sea, which is currently occupied by the Chinese Coast Guard.
Another base being considered, Batino told reporters, is one in the city of Subic that was used by Americans until 1991 when lawmakers agreed to evict US forces from the facility.
Soon, officials are expected to announce which bases will formally be opened up to the US based off of maritime security, maritime domain awareness and humanitarian assistance and disaster response, according to Rappler's report.