Former Knicks' great responds to NBA race scandal with call for black-only league
Published time: 30 Apr, 2014 00:48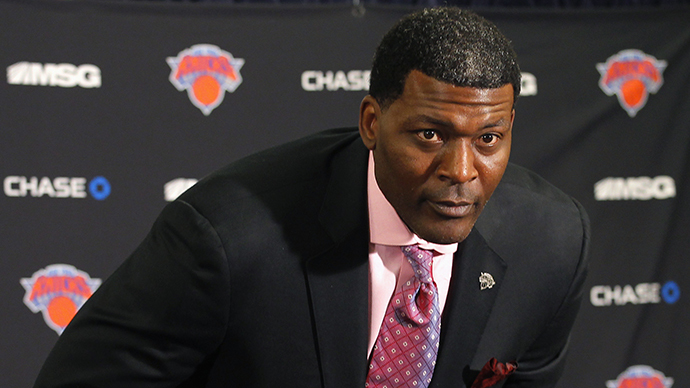 New York Knicks executive and former star Larry Johnson reacted on Twitter to racist and misogynistic remarks made by Los Angeles Clippers owner Donald Sterling by calling for an all African-American basketball league.
Sterling landed in hot water over the weekend, when TMZ released an audio recording believed to be of Sterling telling his mistress V. Stiviano not to bring black people to Clippers games and criticized her for posting pictures of her with black athletes Magic Johnson and Matt Kemp, the Associated Press reports. The recordings were made by Stiviano herself, according to TMZ.
"It bothers me a lot that you want to broadcast that you're associating with black people. Do you have to?" the man identified as Sterling asks the woman on the tape. "You can sleep with [black people]. You can bring them in, you can do whatever you want. The little I ask you is not to promote it on that ... and not to bring them to my games."
Johnson took to Twitter, with the following series of tweets::
I heard the Clippers owner made a racial statement And black people are all upset, get over it this is Integration.

— Larry Johnson (@TheRealLJ2) April 26, 2014
Black people your Focusing on the wrong thing. We should be focusing on having our own, Own team own League! To For Self!!

— Larry Johnson (@TheRealLJ2) April 26, 2014
He is the owner of the team personally I think He Should have Who ever he wants at the game.

— Larry Johnson (@TheRealLJ2) April 26, 2014
It is not the first time the former player has focused on the mostly white ownership of NBA teams, the New York Post reports.
During the 1999 NBA Finals, Johnson - then a player for the Knicks - said, "We've got a lot of rebellious slaves on this [Knicks] team."
When asked to explain his comment, he responded, "I've got to explain that to you? We don't go with the mainstream.''
Twitter soon reacted to Johnson's tweets.
@Sdarro25@TheRealLJ2 If you don't understand how Black people being ruled over by White people is racist, then segregation is necessary.

— Prince Cinque (@9eaceKeeper) April 28, 2014
@TheRealLJ2 let's just rebuild the broken down racism wall thats still in the process of being completely removed.Just as racist as Sterling

— John Hurley (@JohnHurley3) April 26, 2014
@TheRealLJ2 like that doesn't say discrimination??? Come on man you're better than that....

— Jen Gustin (@JenGustin) April 26, 2014
@Bobbie_Evans@TheRealLJ2 If point is to have more minority owners I agree, if to have a one race only league he is no better than Sterling.

— Jerry Cobb (@JCobb40) April 28, 2014
@TheRealLJ2 You're the man, bud, but fighting ignorance with ostracization isn't the answer, plus a terrible business plan.

— Sully (@TheJeffSullivan) April 28, 2014
Johnson's tweets on Saturday came at the same time the NBA announced it would investigate Sterling and his remarks, the Washington Times reports.
On Tuesday, league commissioner Adam Silver announced the penalties Sterling will face from the NBA. The 80-year-old will be banned for life from any association with the league or the Clippers, and fined $2.5 million — the maximum allowable under the NBA constitution, the AP says. If three-fourths of the other 29 owners agree to Silver's recommendation, Sterling will be forced to sell the team he has owned since 1981.
Silver was forced to take swift, decisive action in the face of player protests, sponsor threats to desert the league and criticism from fans - including President Barack Obama.
"We stand together in condemning Mr. Sterling's views. They simply have no place in the NBA," Silver said at a news conference. The fine will be donated to organizations dedicated to anti-discrimination and tolerance efforts, Silver said.