Tycoon Prokhorov denies sanctions link to US basketball club ownership move to Russia
Published time: 25 Mar, 2014 08:39
Edited time: 25 Mar, 2014 15:28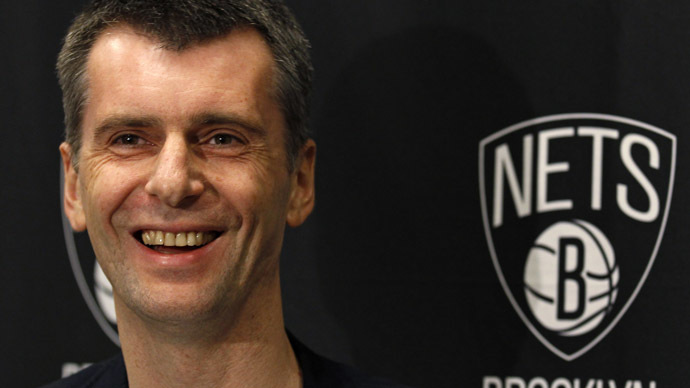 The owner of the Brooklyn Nets basketball team, Russian billionaire Mikhail Prokhorov, said the club is being transferred to Russian companies. The process began last year, and is not linked to possible Western sanctions.
"I have already said numerous times that I am gradually transferring the basketball club to Russian companies, according to the law," Prokhorov told journalists, as quoted by the Interfax AFP news agency. "This does not violate any NBA rules and I will bring it in accordance with Russian law."
According to a report in the Wall Street Journal, the billionaire started the process of shifting the Brooklyn Nets franchise to Russian jurisdiction several years ago, when he made a decision to get into Russian politics. According to Russian law a national politician must not have foreign assets so Prokhorov made a great effort to bring his assets to Russia.
Last year Prokhorov said he had permission from the NBA to relocate the team's ownership vehicle to Russia. But in a Monday comment the NBA said they had not been notified about any changes to the Brooklyn Nets' ownership.
"The Nets are owned by Mikhail Prokhorov through a US-based company," said NBA spokesman Mike Bass in a statement. "We have received no official application nor is there a process underway through our office to transfer the ownership of the Nets to another company."
The principal owner of the Brooklyn-based professional basketball team is now Prokhorov's US-based Onexim Sports & Entertainment holding. In September 2009 Prokhorov paid $200 million to get control of the club. The tycoon has an 80 percent stake in the team and 45 percent of the club's newly built arena.
According to the NBA, the value of the Brooklyn Nets surged in 2013 by 47 percent to $780 million, becoming America's fifth most valuable basketball club.
The Forbes magazine estimates Mikhail Prokhorov's worth at $10.3 billion.
At the time when Western nations continue escalating economic sanctions against Russia over the reunion with former Ukrainian autonomous region of Crimea, billionaire Prokhorov is not sure that sanctions imposed by Washington on Russia will not affect his assets in the US.
"This question is not clear so far. We are all now looking at it together. At the moment, so far, no," said the Russian businessman who so far has not been personally targeted by US sanctions.
During the 2012 elections Mikhail Prokhorov stood against Vladimir Putin in the presidential race.
On Monday President Putin decorated Mikhail Prokhorov for his contribution to the Sochi Winter Olympic Games, as the billionaire has headed the Biathlon Union of Russia since 2008.