US in secret talks with Hezbollah – Israeli reports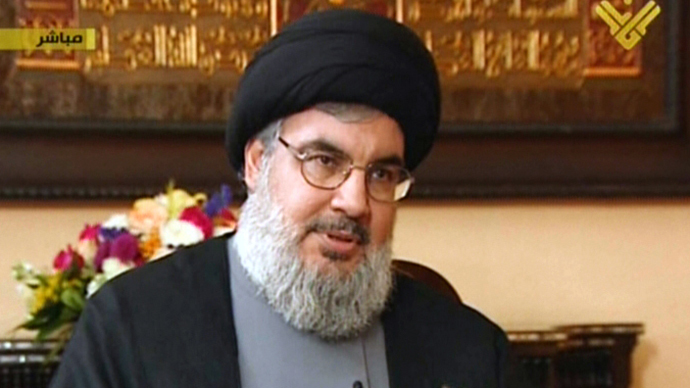 Sources in Washington, DC have told reporters at Israel's DEBKAfile that secret discussions involving the White House and Hezbollah have recently taken place in the island nation of Cyprus.
According to the news site's unnamed sources, officials working within the administration of United States President Barack Obama have reached out to members of the militant Lebanese group that's designated as a terrorist organization by the US — unbeknownst to the media until the site published reports of the meeting on Tuesday this week.
Hezbollah leader Hassan Nasrallah, DEBKAfile reported, considers himself to be a key figure with regards to potentially resolving the bloody civil war in Syria that has pitted President Bashar Al-Assad's regime against anti-government rebels for three years now.
The actions of Hezbollah, DEBKAfile said, are "credited with turning the Syrian army's fortunes around from near defeat in 2013 to partial triumph in key areas of Syria this year. "
"Nasrallah is able to boast that his movement's commitment to the Syrian conflict is its central mission and will remain so until rebel and Al-Qaeda forces are finally vanquished," the site reported.
As a result, DEBKAfile reported on Tuesday this week that the Obama administration has begun participation in secret talks with Nasrallah's team recently in order to put an end to not just the war in Syria, but also to ease tensions between the US and Iran.
According to DEBKAfile, agents with the US Central Intelligence Agency met in Cyprus last month with intelligence and security operatives from Hezbollah in an attempt to resolve at least a portion of the hostilities that has plagued the Middle East in recent years.
Both meetings, the site claimed, were led on the American side by the US Ambassador to Beirut, David Hale. Lebanese media reported that Hale held discussions with Lebanese Forces leader Samir Geagea, who has opposed any agreement between the state's official government and Hezbollah.
"In Washington's view, Hezbollah's involvement in the Syrian war has increased its leader's dependence on Tehran," the article reads. Nasrallah "accordingly has little room for maneuver in contacts with US representatives, and if he turns difficult, they are sure they can turn to Tehran to force him in line."
"The plan developed in Washington was to seize the momentum of the nuclear track and ride it to a broad US-Iranian understanding that embraces a comprehensive nuclear accord with Tehran as well as understandings for resolving the Syrian and Lebanese questions," DEBKA reported
If accurate, then one of Hezbollah's top dogs could help end tensions in both Syria and Iran with regards to America's involvement on both fronts. At the same time, however, US Ambassador Hale was reported by the Arabic magazine Majalla to be endorsing lawmaker Michel Aoun for president of Lebanon, where elections will soon be held. If the US representative is successful in distancing Aoun from the Hezbollah officials he's current affiliated with, Majalla wrote, then Hezbollah could become isolated and forced to reconsider its role in the Syrian war — the creation of such a rift, however, may in the meantime hurt the odds of a deal between Nasrallah and Americans.
You can share this story on social media: