FDA moves to regulate e-cigarettes, hookah for the first time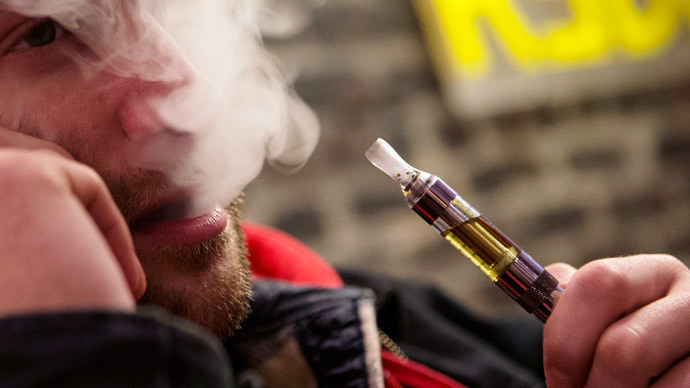 The Food and Drug Administration took its first steps to regulate electronic cigarettes and other currently unregulated tobacco products on Thursday, with a proposed rule that would treat e-cigarettes the same as traditional cigarettes.
"It's a huge change," FDA Commissioner Margaret Hamburg told reporters in a briefing Wednesday that previewed the rule. "We will have the authority as a science-based regulatory agency to take critical actions to promote and protect the health of the public."
E-cigarettes, cigars, pipe tobacco, hookah tobacco and other tobacco products would join traditional cigarettes, cigarette tobacco, roll-your-own tobacco and smokeless tobacco under the FDA's regulatory purview, granted to it by the 2009 Family Smoking Prevention and Tobacco Control Act, commonly referred to as the Tobacco Control Act, according to the proposed rule.
The main restrictions proposed by the FDA include banning the sale of e-cigarettes to minors, prohibiting the distribution of free samples and banning the use of vending machines to sell e-cigarettes (unless the vending machine is in a location that never allows minors), NPR reports. E-cigarettes would also be required to carry warnings that they contain nicotine, that nicotine is addictive and disclose the ingredients in the product.
E-cigarettes are a battery-powered devices that heat liquid nicotine, but emit only a steam-like vapor instead of smoke. They can look like cigarettes, pens or pipes. Their sales make up about 2 percent of the overall tobacco industry, but they are a fast-growing, $2 billion niche.
E-cigarette makers say that their products are harmless, and most scientists believe it is the filler products in cigarettes - not the nicotine itself - that causes cancer, CNN reports.
But the lack of carcinogens like arsenic, benzene or formaldehyde does not mean that e-cigarettes are safer, the FDA contends. "Right now, for something like e-cigarettes, there are far more questions than answers," Mitch Zeller, director of the FDA's Center for Tobacco Products, told the Washington Post. "We're calling this the first step... For the first time, there will be a science-based, independent regulatory agency playing a vital gate-keeping function."
Public health officials and industry insiders were mixed in their reactions.
Matthew Myers, president of the Campaign for Tobacco-Free Kids, told the Washington Post the proposed rule does not go far enough. "This action is long overdue," he said in a statement. "It is inexcusable that it has taken the FDA and the administration so long to act. This delay has had serious health consequences as these unregulated tobacco products have been marketed using tactics and sweet flavors that appeal to kids."
The proposal does not restrict or ban fruit flavors or other sweeteners, nor will it restrict television advertising and online sales, NPR reports.
"The window is still open for a more draconian approach," said Jason Healy, president of Lorillard Inc's blu eCigs unit, which holds roughly 48 percent of the market, Reuters reports. "I think the proposal shows a good science-based reaction here from the FDA, but there is a lot we have to go through during the public comment period."
After Thursday's announcement, the public will have 75 days to comment on the proposed rule before it goes into effect.