US Military hopes AI autopilot can replace flight crews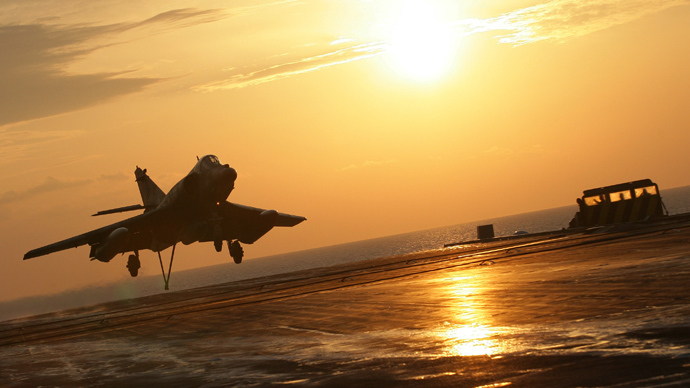 The US Defense Department is developing a method of autopilot that may allow the military to reduce air flight crews to a fraction of their current size. This announcement comes after officials worried that a reduced military would be less effective.
The Defense Advanced Research Projects Agency (DARPA), the Pentagon's research and development department said Tuesday that, over the next 50 years, it will work to introduce automated flight systems in aircraft.
While military planes and aviation vehicles would still be flown by a pilot, that soldier would serve as a high-level "mission supervisor" who issues commands through a touch screen. The technology could replace five members of a flight crew, according to a statement.
"Our goal is to design and develop a full-time automated assistant that could be rapidly adapted to help operate diverse aircraft through an easy-to-use operator interface," Daniel Pratt, a program manager at DARPA, said in the notice published this week. "These capabilities could help transform the role of pilot from a systems operator to a mission supervisor directing intermeshed trusted, reliable systems at a high level."
The plan is officially known as the Aircrew Labor In-Cockpit automation System (ALIAS) and will act essentially as an autopilot program that will help with every aspect of the flight. As currently advertised, ALIAS will be involved with takeoff, landing, and even in-flight emergencies. It may also have a hand in any number of smaller tasks, such as aircraft maintenance.
ALIAS will be designed with a pilot in mind, although DARPA also said it will be capable of completing every aspect of a mission if pre-programmed.
"ALIAS should present a high-level, latency-tolerant interface to a human supervisor to enable operation and foster effective human-machine collaboration," the statement went on. "For example, simple touch and voice interfaces may enable supervisor-ALIAS interaction."
US Secretary of Defense Chuck Hagel announced in February of this year that the Obama administration would work to shrink the size of the US Army to its smallest size since before World War II. Citing the federal government's budgetary concerns and the winding down of the wars in the Middle East, Hagel deemed it necessary to reduce the military personnel and lingering, expensive equipment costs.
He said in a speech that cutting the current level of 522,000 soldiers was necessary "to protect critical capabilities like Special Operations Forces and cyber resources."
"We are repositioning to focus on the strategic challenges and opportunities that will define our future: new technologies, new centers of power, and a world that is growing more volatile, more unpredictable, and in some instances more threatening to the United States," he said, as quoted by USA Today.
How much involvement ALIAS will have in a less expensive, more agile military remains to be seen, although the autopilot project is far from the only project DARPA is known to be researching.
A Space.com report from earlier this week revealed that DARPA is also dedicating resources to a foldable space telescope that could someday provide detailed, high resolution images at a relatively cheap price. The Membrane Optical Imager for Real-Time Exploitation (MOIRE) may someday orbit the planet at an altitude near where telecommunications satellites currently float.
Whether MOIRE is in fact cheaper than the image technology currently in use is unknown, although Lt. Col. Larry Gunn, a MOIRE program manager, implied that an initial investment could yield high dividends in the future.
"Membrane optics could enable us to fit much larger, higher-resolution telescopes in smaller and lighter packages," he said. "In that respect, we're 'breaking the glass ceiling' that traditional materials impose on optics design. We're hoping our research could also help greatly reduce overall costs and enable more timely deployment using smaller, less expensive launch vehicles."
You can share this story on social media: