Oklahoma militia joins Bundy ranch defenders against feds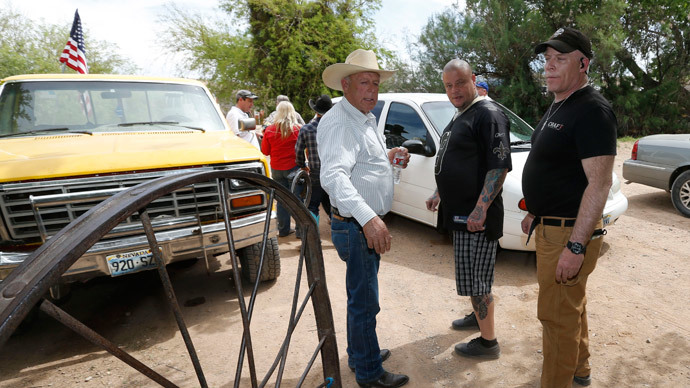 Members of the Oklahoma Militia have come out in support of Nevada rancher Cliven Bundy, who recently found himself in a standoff with hundreds of armed federal agents over land rights related to his cattle ranch.
Earlier this month, a weeklong confrontation between the two parties began when armed federal officials under the US Bureau of Land Management attempted to seize nearly 1,000 of Bundy's cattle, as authorized by a court order. As RT reported previously, the BLM claims Bundy owes the government about $1 million since he stopped paying the fees associated with allowing his cattle graze on federal land in the early 1990s.
Bundy, meanwhile, argues the land his cattle graze on has belonged to his family since the 1870s, and that he's not obligated to pay the government anything.
"I don't believe I owe one penny to the United States government," Bundy said earlier this month. "I don't have a contract with the United States government."
After roughly 1,000 protesters – gun-rights activists, as well as militia members from California, Idaho, and others – arrived at the scene in support of Bundy, the BLM halted its confiscation effort. Hundreds of cattle had been rounded up at that point, but they were released back into Bundy's custody.
Now, though, members of the Oklahoma militia are saying the claim against Bundy is illegal, and that they would stand alongside the Nevada rancher even if it meant taking up arms against the federal government.
"Evidently in America we don't actually own the property anymore if you ever did," militia member Scott Shaw told local news station KFOR. "It's up to the feds. The ball's in their court! You can do this legally or if you want to try to do a land grab violently, you can do that. We're going to resist you!"
Although Oklahoma has yet to face a similar conflict with the government, Shaw added that members are worried about what will happen in the future.
"Just look around the country, they are doing it everywhere," he said. "If they can do it in Nevada, they can do it in Colorado, Texas. I mean, what's to stop them from coming to Oklahoma? The only thing to stop them is 'We the People'."
While the standoff has ceded into the background for now, BLM spokesman Craig Leff told the Associated Press the agency will continue to make its case "administratively and judicially," presumably meaning that further action in the court system is upcoming.
Speaking to KFOR, Sen. Jim Inhofe (R-Okla.) said both sides were to blame for the current situation.
"You've got a bunch of people there trying to take the law into their own hands and they shouldn't be doing that. And the Bureau of Land Management is not government-owned, it's publicly owned. There's a big difference there. I blame both sides."
You can share this story on social media: