Santa's vaccine passport prompts supermarket boycott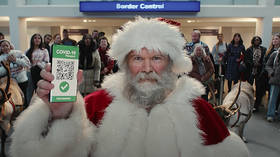 The UK's advertising watchdog is probing an advert from supermarket giant Tesco in which perennial festive figure Santa Claus whips out his vaccine passport at the border amid concern for his free movement, saving Christmas.
On Saturday, Tesco premiered its 90-second TV ad, set to Queen's 'Don't Stop Me Now', in which plucky Britons are seen determined to enjoy their Christmas after 18 months of Covid-19 restrictions and a subdued festive period in 2020.
The advert, titled 'This Christmas, Nothing's Stopping Us', became the most complained about of the year to date. The Advertising Standards Authority (ASA) received some 1,500 complaints over the weekend with a small section of the British public angered by the appearance of a vaccine passport within video.
The offending scene shows a TV reporter announcing that "Santa could be quarantined" in a "breaking news" feature. However, viewers are then shown a bearded Santa Claus presenting his Covid-19 vaccine passport at border control, allowing him to pass freely into the country, thus saving Christmas.
The scene in question has been accused of being coercive and encouraging medical discrimination. The ASA said the majority of the complaints claim the advert pushes "medical discrimination based on vaccine status."
"We are currently carefully reviewing these complaints to determine whether there are any grounds for further action," a spokesperson for the watchdog stated.
The advert has also led to some anti-vaxxers leading a boycott against the supermarket giant.
If you like this story, share it with a friend!
You can share this story on social media: