Russian sex workers & Only Fans stars offered free therapy sessions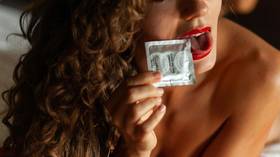 Groups offering psychological support to those earning cash in adult industries will soon pop up in Moscow, offering the city's sex workers a chance to connect and share their experiences, a foreign-funded NGO has announced.
Starting from December 16, people with legally questionable jobs in prostitution, pornography and other X-rated career paths will be able to attend sessions held twice a month, local media reported on Friday.
The meetings will be held at the office of the Andrey Rylkov Foundation, a self-declared healthcare and civil liberties group registered as a 'foreign agent' by the Russian Ministry of Justice over links to overseas cash.
Describing the initiative in a now-deleted Instagram post, the non-profit claimed that "this is a space where you can come and be with someone who, like you, is having a hard time right now. Exchange joy, anger, pain, discovery, fatigue, dreams and desires… listen, notice how words respond inside, exhale, pause in the usual rhythm of life'."
Sex workers attending are guaranteed confidentiality, according to the NGO, with everything discussed to remain strictly between those in the room. The sessions will be convened by a psychologist and a therapist.
The organization's move comes as OnlyFans models across the country have faced backlash and punishment for posting risky content posing alongside some of Russia's most notable landmarks. At the beginning of November, a young woman was blasted by locals over a raunchy Tik-Tok in which she showed her bottom in tight leggings outside the Kul Sharif Mosque in Kazan, the capital of the Muslim-majority republic of Tatarstan.
Similar events have landed others in trouble with authorities. In Moscow, Russian porn star Rita Fox was slapped with a two-week jail sentence for "disorderly conduct" after flashing her bare bum in front of the Kremlin on the capital's iconic Red Square.
Meanwhile, an Instagram personality who shot photos of herself in skimpy underwear near St. Isaac's Cathedral in St. Petersburg was charged for insulting religious beliefs.
The Andrey Rylkov Foundation was established in 2009 in honor of an activist who passed away in 2006 due to the effects of drug addiction. The non-profit aims to reduce harm for narcotics users who inject illegal substances and others in precarious positions in their lives.
Like this story? Share it with a friend!
You can share this story on social media: