Insulate Britain announces it will suspend chaotic campaign blocking major roads… for less than 2 weeks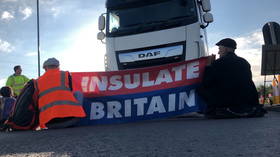 After causing disruption on the busy M25 London orbital for several weeks, eco group Insulate Britain has penned an open letter to UK PM Boris Johnson announcing it will pause its campaign – but will resume in under a fortnight.
On Thursday, the climate change group, which has been protesting for the insulation of millions of homes nationwide to reduce carbon emissions, declared it was taking a break from its movement of "civil resistance" until October 25 in the run-up to the United Nations COP26 global climate conference.
BREAKING | Climate group Insulate Britain has announced it will "suspend its campaign of civil resistance" until Oct 25.Here is the open letter to Prime Minister Boris Johnson. pic.twitter.com/2YY26Pq8Lj

— Gareth Davies (@GD10) October 14, 2021
Referring to remarks made by Johnson during his speech at the UN in September, in which the PM acknowledged that "we are approaching that critical turning point – in less than two months – when we must show that we are capable of learning, and maturing, and finally taking responsibility for the destruction we are inflicting, not just upon our planet but ourselves," the group asked him to use the upcoming conference to show he meant his words.
We invite you to do the right thing, so we can be secure in the knowledge that our government did everything it could to protect and defend our country.
Insulate Britain also said it "profoundly acknowledges the disruption caused over the past five weeks," but said the "dire reality" of the collapse of the climate must be faced.
The announcement of the pause comes after several videos circulated online of enraged motorists taking matters into their own hands by dragging members of the group off the roads as they staged their thirteenth protest on Wednesday.
Also on rt.com
Furious motorists forcibly remove Insulate Britain eco warriors after protests block roads once more (VIDEOS)
Insulate Britain demanded that Johnson "be taken to court for treason" last Friday, as they blockaded the M25 at Waltham Cross, Hertfordshire and the A501 at Old Street roundabout in Islington, North London during rush hour.
UK Home Secretary Priti Patel announced last week that the maximum penalties for disrupting motorways will be increased and that the government would "criminalise interference with key infrastructure such as roads, railways and our free press."
The PM lashed out at the group on the same day as Patel's announcement, branding the members of Insulate Britain as "irresponsible crusties" who are "trying to stop people going about their day's work and doing considerable damage to the economy."
If you like this story, share it with a friend!
You can share this story on social media: