Furious motorists forcibly remove Insulate Britain eco warriors after protests block roads once more (VIDEOS)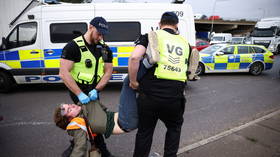 Having grown increasingly angry at the string of demonstrations held by Insulate Britain on the M25 London orbital, some motorists were seen dragging eco warriors off roads as they staged their thirteenth protest to date.
Clashes erupted when the eco mob halted traffic at a busy road near the Dartford Crossing and a junction of the M25 on Wednesday, with around 40 activists taking part in the blockade.
Footage on social media showed an enraged motorist attempting to pass a demonstrator who stood in front of the bonnet of the vehicle, as the driver of the adjacent car got out and dragged an Insulate Britain member out of the way by their backpack, before they then shuffled back into their original place.
One lorry driver shouted "I've got a business to run" and aggressively honked their horn multiple times. People could be seen yanking protesters out of the way, with no reported police presence in the area at the time.
'People are so close to being run over, it is incredibly dangerous'GB News London reporter Alice Porter is in East London as Insulate Britain protesters clash with lorry drivers, as the eco group shut down another major junction. pic.twitter.com/zWGqyFp6p0

— GB News (@GBNEWS) October 13, 2021
Another video on Twitter depicted an angry SUV-driving mum screaming "I'll drive through you, then" after the protesters blocked her path as she took her 11-year-old-son to school.
Essex police said that 35 arrests were made, with 16 people detained at Junction 31 of the M25 and 19 at Stonehouse Lane, Purfleet.
Insulate Britain's thirteenth demonstration coincides with the release of a report from the charity Shelter which found that the health of one in five renters (22%) in England, equivalent to almost two million households, is being harmed due to poor housing "because they are mouldy, cold, unaffordable and grossly insecure."
UK Home Secretary Priti Patel announced last week that the maximum penalties for disrupting motorways would be increased and that Downing Street would "criminalise interference with key infrastructure such as roads, railways and our free press."
Also on rt.com
Insulate Britain offer apology for 'causing disruption' after UK PM Johnson brands eco warriors 'irresponsible crusties'
National Highways was granted a third injunction against protesters by the court at the beginning of October, under which activists could face imprisonment or an unlimited fine if they stage demonstrations on the 4,300-mile Strategic Road Network linked to the M25 in the South East.
The movement, an offshoot of Extinction Rebellion, said they were not scared of risking punishment, however, and claimed "we remain more fearful of the loss of our country than we do of" Patel.
Like this story? Share it with a friend!
You can share this story on social media: