Raab axed as foreign secretary, succeeded by Liz Truss: Johnson's juggling continues with new cabinet appointments after firings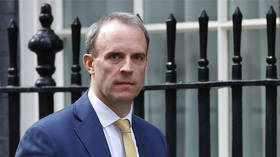 Prime Minister Boris Johnson has shaken up his cabinet, and after sacking a handful of ministers is now moving others to new jobs. Former Foreign Secretary Dominic Raab and former Trade Secretary Liz Truss were the first moves.
Johnson began culling his cabinet on Wednesday afternoon, letting go of Education Secretary Gavin Williamson, Justice Secretary Robert Buckland, Housing Secretary Robert Jenrick, and Conservative Party co-Chair Amanda Milling in rapid succession.
With the outright sackings done, Johnson traveled from Westminster to Downing Street to begin the rehiring. Relieved of his position as Foreign Secretary, Dominic Raab was appointed Justice Secretary and given the titles of Lord Chancellor and Deputy Prime Minister too, along with Buckland's old job.
Raab had taken criticism in parliament over British intelligence's failure to foresee the rapid collapse of the western-backed government in Afghanistan last month and the lightning-fast fall of Kabul to Taliban forces. The move is somewhat of a demotion for Raab, but Johnson also appointed him Lord Chancellor and Deputy Prime Minister. Raab is the first minister to officially hold the latter title since Nick Clegg did between 2010 and 2015 under Prime Minister David Cameron.
Home Secretary Priti Patel was then called in to meet Johnson, but emerged with her job intact. Rishi Sunak too stayed on, as Chancellor of the Exchequer.
With Raab out of a job, Trade Secretary Liz Truss was promoted to Foreign Secretary. Truss will also remain on as Minister for Women and Equalities. A move from trade secretary to the highest representative of British diplomacy is a considerable promotion for Truss, who is highly regarded by her fellow Conservatives.
Also on rt.com
'Just another distraction': Some unconvinced by Boris Johnson's cabinet reshuffle following benefits cut
Michael Gove was moved from the Cabinet Office to the Ministry of Housing, where Downing Street says he will take on "cross-government responsibility for levelling up."
Nobody knows exactly what "levelling up" means, but it will reportedly involve efforts to reduce economic inequality between London and the rest of the UK. The government is expected to release a paper on the matter in the coming months.
Gove's position was filled by Stephen Barclay, who served as Chief Secretary to the Treasury since last February. Before that, Barclay served as Brexit Secretary since 2018.
Culture Secretary Oliver Dowden has been shifted to the Cabinet Office. The move gives Dowden leverage over the civil service and the day-to-day running of government. He was also reportedly appointed co-Chair of the Conservative Party, taking over Amanda Milling's role.
Minutes after Dowden's move was announced, his old job was filled by Nadine Dorries, a successful author and Tory MP. Dorries is something of a culture warrior, and has accused "left wing snowflakes" of censoring the arts.
Williamson's spot as Education Secretary was filled by Nadhim Zahawi, who served as Under-Secretary of State for Covid-19 Vaccine Deployment. Zahawi has spent recent weeks avoiding reports that the government is considering another lockdown in October, but with vaccinations about to be rolled out to teenage schoolchildren, Covid concerns will follow the minister to his new post.
Defence Minister Ben Wallace kept his job, as did Chief Whip Mark Spencer. Unlike some of the ministers sacked earlier on Wednesday, both men are reportedly well-liked by party members.
Think your friends would be interested? Share this story!
You can share this story on social media: